He's that cool, countercultural Catholic. He's a stalwart soldier in the Church Militant. And it's time to get him a Christmas gift. Here's a guide to some fantastic Catholic Christmas gifts for men in 2019!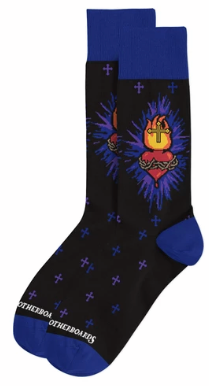 Before you dismiss socks as the Christmas gift no one wanted as a kid, you absolutely must see these from the skateboard company Motherboards. From flaming Sacred Hearts and St. Benedict medals transfixed with swords meant to show off with sneakers, to subtle argyle patterns that incorporate the Immaculate Heart to make a quiet statement with a nice suit, these make for an incredibly creative display of Faith!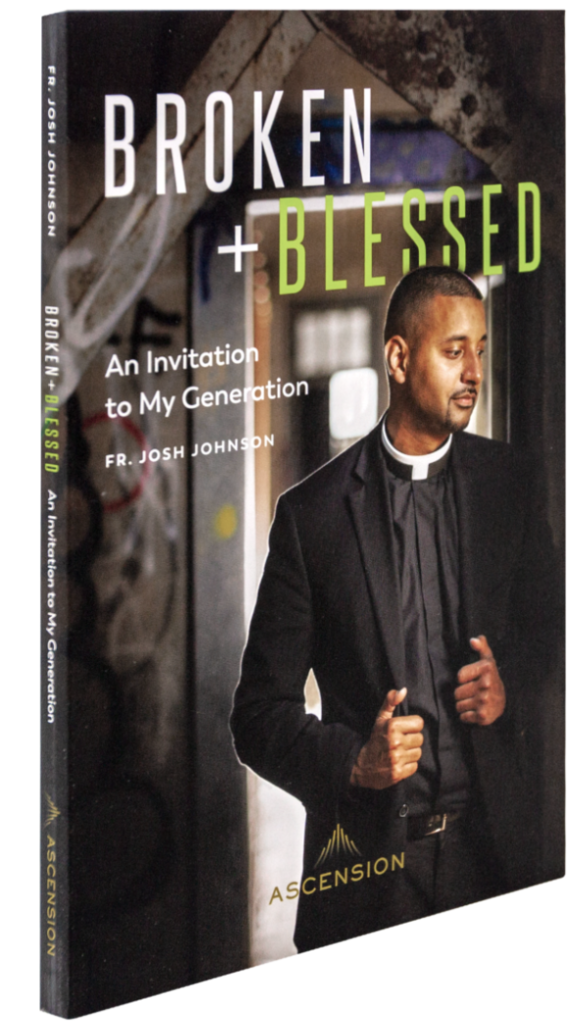 Pair the socks with a book that similarly speaks to the style of hip, current, and thoughtful millennial Catholics, like Fr. John Johnson's Broken and Blessed, and you have a gift he won't forget.
Your recipient will be ready when someone asks him why he still holds firm and even chooses to visibly express his Catholic Faith.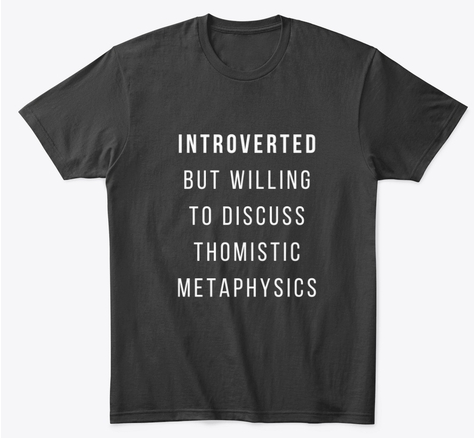 Have an introvert family member or friend? No Problem.
On the theme of clothing, for that quiet, deep thinker on your list, Ascension favorite Matt Fradd just came out with a line of shirts sporting the double-take inducing declaration:
"Introverted, but willing to discuss Thomistic Metaphysics"
It'll get a smile from the wearer and a raised eyebrow from those he meets.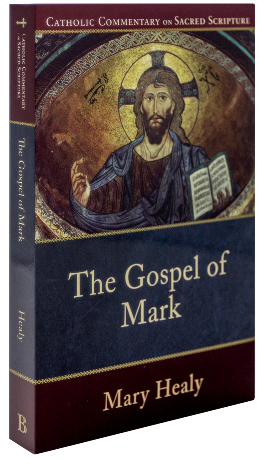 A guy with a scholarly enough inclination to get a good chuckle from that shirt would also be sure to love something to read. For him, check out one of Ascension's Catholic Commentaries on Sacred Scripture. You can pick his favorite book, or you can't go wrong with the one on the Gospel of Mark.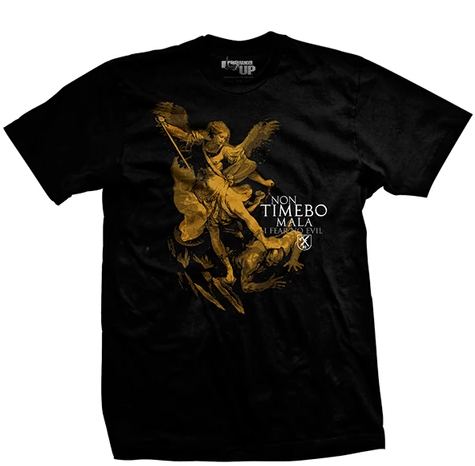 The veteran-owned T-shirt company Ranger Up created this tribute shirt to St. Michael, which is sure to become a favorite with the protective gentlemen in our lives. It's available in a few colors and also as a wall art piece for his man cave.
For the fiercely faithful men in your life, consider gifting this beautiful shirt with one of the weapons below!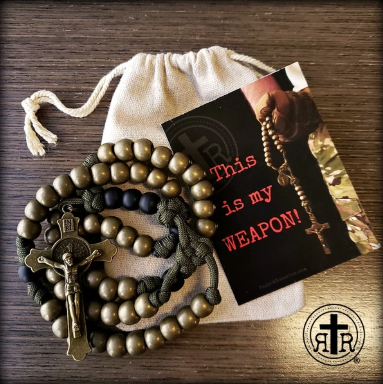 Most guys will appreciate a good weapon. Besides, few things can remind men that we value their spiritual courage more than gifts that show them we see them for the warriors they are.
I was genuinely impressed when a priest friend of mine recently showed me his Combat Rosary from Rugged Rosaries. It's nearly indestructible and appears as viable a physical weapon as a spiritual one. The site also includes rosaries modeled on WWI military-issue styles.
There is another style of military rosary I remember as more typical in Iraq and Afghanistan, simply made of carefully knotted paracord. If you are crafty enough, making one yourself will probably be appreciated as an incredibly thoughtful gesture.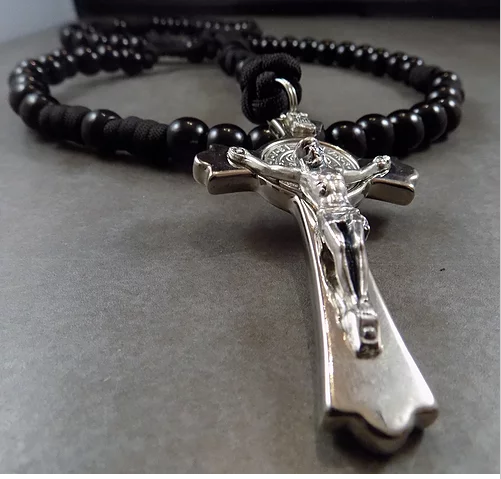 Black Monk Rosaries have a modern military construction and styles that even incorporate crusader and memento mori themes that guys will love.
They also have single-decade clips that will easily find their way onto the keys or pack he reaches for every day.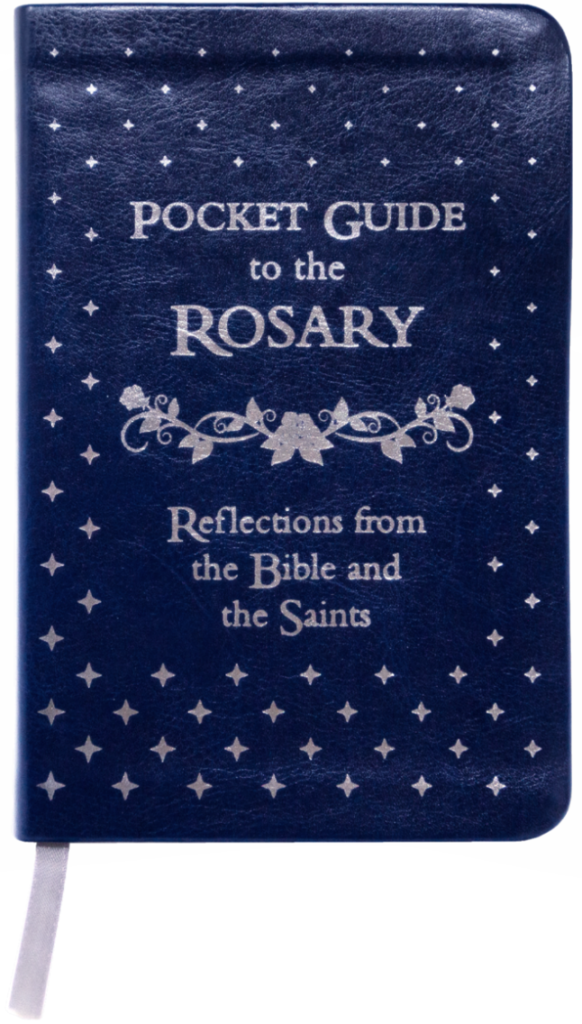 Any weapon needs to be presented with a solid user's manual, and one of the best is Ascension's Pocket Guide to the Rosary. It's small, leatherbound, artistically beautiful, practical, and inspiring. It's even available in English and Spanish.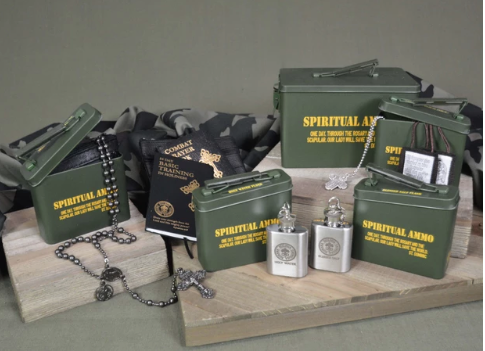 The Rosary isn't the only weapon a Catholic man needs, however. In terms of other powerful sacramentals and instructions as gifts, I love the "ammo can" kits available from the priest who runs the Roman Catholic Man ministry, Roman Catholic Gear.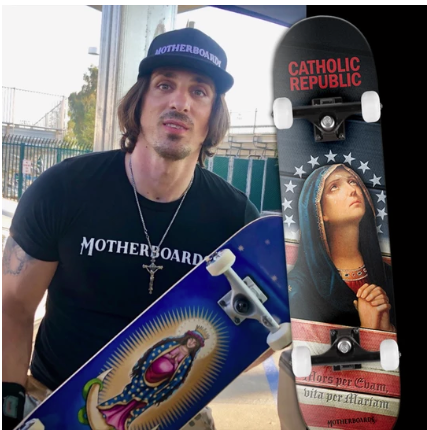 Earlier, I mentioned socks from the company Motherboards. If you happen to have a skateboarder or snowboarder on your list, be assured that you will attain an unsurpassable level of coolness by gifting one of these Catholic art boards. They are so beautiful and edgy, I would be inclined to simply display one on the wall, even if I couldn't skate! They are a wonderful Catholic lifestyle brand as well.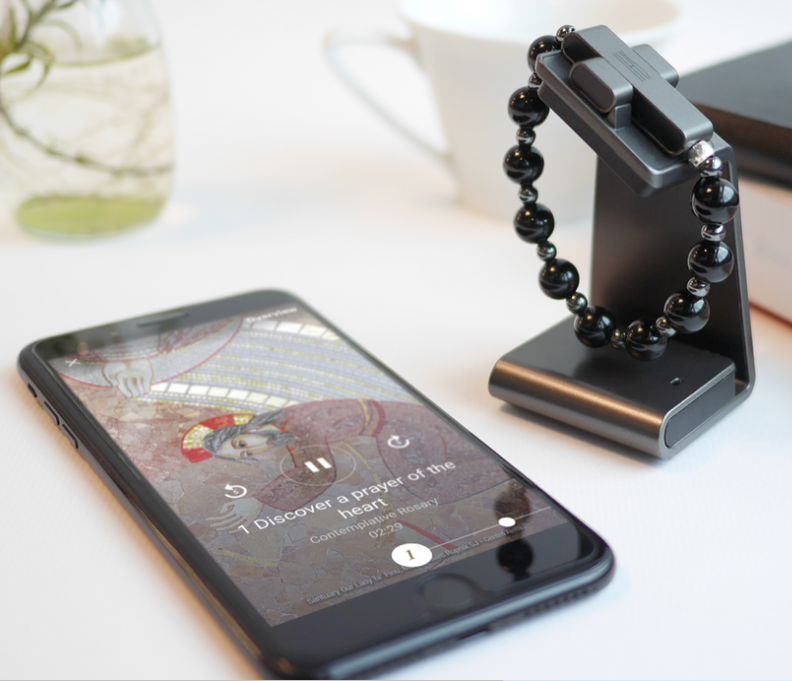 The Vatican just launched a wearable wrist rosary linked to an app that opens when the device senses you have made the Sign of the Cross. It also functions as a health tracker. I'm not kidding. It just launched, so at the time of this blog post, it is only available in Italy. However, you can sign up for updates and promise one of the first available in the US to the techie on your list.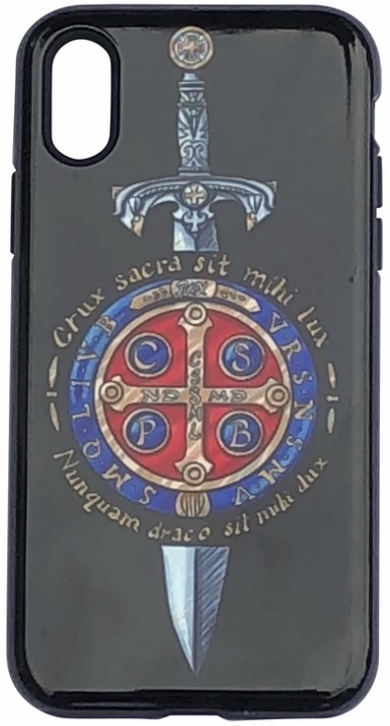 In the meantime, if you are making a gift of a phone, you can increase its Catholic swagger and utility. For instance, consider adding one of these phone covers, also from Motherboards and install the iBrevary and iRosary apps, which are also great on iPads, to help support and encourage his habit of daily prayer.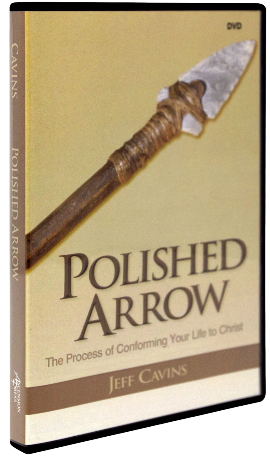 For those more inclined to multimedia presentations than books, here's a fantastic DVD very appropriate for men by Jeff Cavins called Polished Arrow. With this, listeners can multitask by growing in holiness while staying busy with their hands!
Foodie Favorites
How about some Catholic gifts for the bar and kitchen? If you have questions about the Catholic approach to alcohol, by the way, you will definitely enjoy this video from Fr. Mike!
You might already know your recipient's favorite adult beverage. If that was your gift plan, pair it with the book that I keep on my coffee table (and consult frequently), called Drinking with the Saints. It covers the entire liturgical year with beer, wine, and cocktail recipe suggestions for each saint's day!
Similarly, if the faithful man on your list belongs on the Food Network or is especially devoted to San Pasqual, get him one of the many amazing cookbooks based out of monastery kitchens. There are so many, you can google the options and pick the one he'll like best. This is also a great addition to a food basket gift!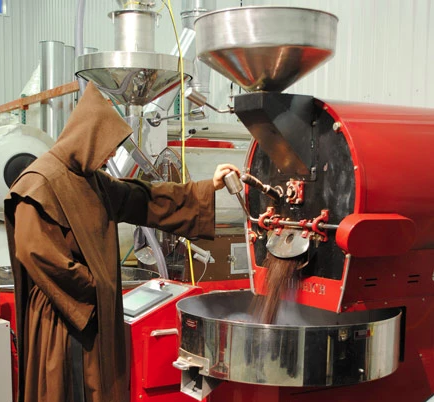 If he loves coffee, give him a highly-rated roast that will outdo whatever gourmet brand he's currently addicted to, while supporting lives of prayer that benefit us all! Mystic Monk Coffee is produced by a cloistered Carmelite men's community in Wyoming.
The same benefit goes for monastery-produced beers, cheeses, candies, and other tasty things. For those, it's best and freshest to research and buy from the monks and nuns closest to your local community.
Because I was writing about food and gift advice, I asked my beautiful Italian mom for any tips. Mamma Giovanna's advice was this:
"Tell the girls who are dating a good guy to give him Italian or Mexican wedding cookies. Make sure they're in a pretty tin with a picture of the Holy Family or the Nativity. It'll put good ideas in his head!"
Catholicize Their Every-Day Carry
One of the most meaningful and personal things we can do for men who are close to us is to impart some kind of holy reminder on the things they carry and touch every day. For instance, he might love something personalized or inscribed.
Here's a picture of a popular pocket knife on which the St. Michael prayer has been very subtly etched on the blade. Many stores offer this service, including bladehq.com.
Also, in the picture above, custom engraved dog tags can bear a wonderful message of faith as well and a reminder of your love. Do you know a man who has a devotion to St. Barsanuphius and can't find a medal for him? You can have any image you want laser-imprinted on a dog tag! There are kiosks at many shopping malls that offer this service around Christmas, and an online source as well.
Best 2019 Recommendation
My favorite pick this year is a gift of peace for the man in your life who is facing a transition or a big decision. Perhaps it's for a son graduating college or a husband considering a career change. It's some of the best and most applicable and practical advice for discernment of any sort (for anyone who doesn't have time to read thousands of pages of St. Ignatius). It's the book called Pray, Decide, and Don't Worry by Jackie and Bobby Angel with Fr. Mike Schmitz.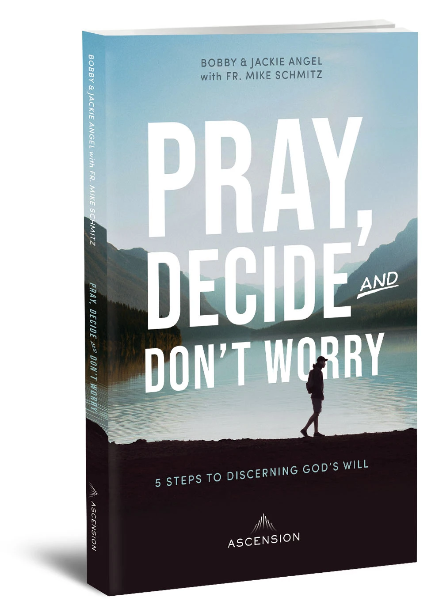 Wishing a beautiful Advent to everyone out there who is seeking the perfect gift. I hope this has sparked a few ideas for you. Also, let's not forget: when we remember the awesome men we are blessed to have in our lives, let's keep in mind our spiritual fathers too. Your parish priest would be touched by a Christmas gift from you!
---
You May Also Like:
---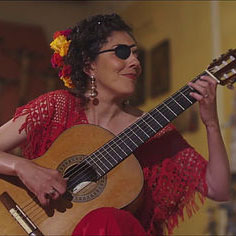 AnnaMaria Cardinalli enjoys sailing, knitting, and archery, and is truly terrible at one of these. She sees beauty as a means for evangelization, and has performed in the world's great musical venues. These range from Lincoln Center, Kennedy Center, and Carnegie Hall, to the really important ones, like singing on EWTN or teaching Panis Angelicus to the first communicants she prepares with her mom, Giovanna, at their local parish. She bleeds blue and gold. Her Ph.D. in theology is from Notre Dame, and she's a service-disabled Navy veteran and former FBI employee. She's proud of her work in Iraq and Afghanistan, particularly that which exposed human rights violations against children, and she remains dedicated to the protection of God's littlest ones.