Today on the Abiding Together Podcast, Sr. Miriam, Michelle, and Heather discuss how to have fruitful and authentic small group conversations that provide safety and opportunities for deep connection with others.
We give insights into how to talk in a vulnerable way, how to sit at one another's feet and listen, and what the ingredients are for meaningful conversations. We hope this offers some helpful insights for going deeper in your friendships and small faith groups with other women.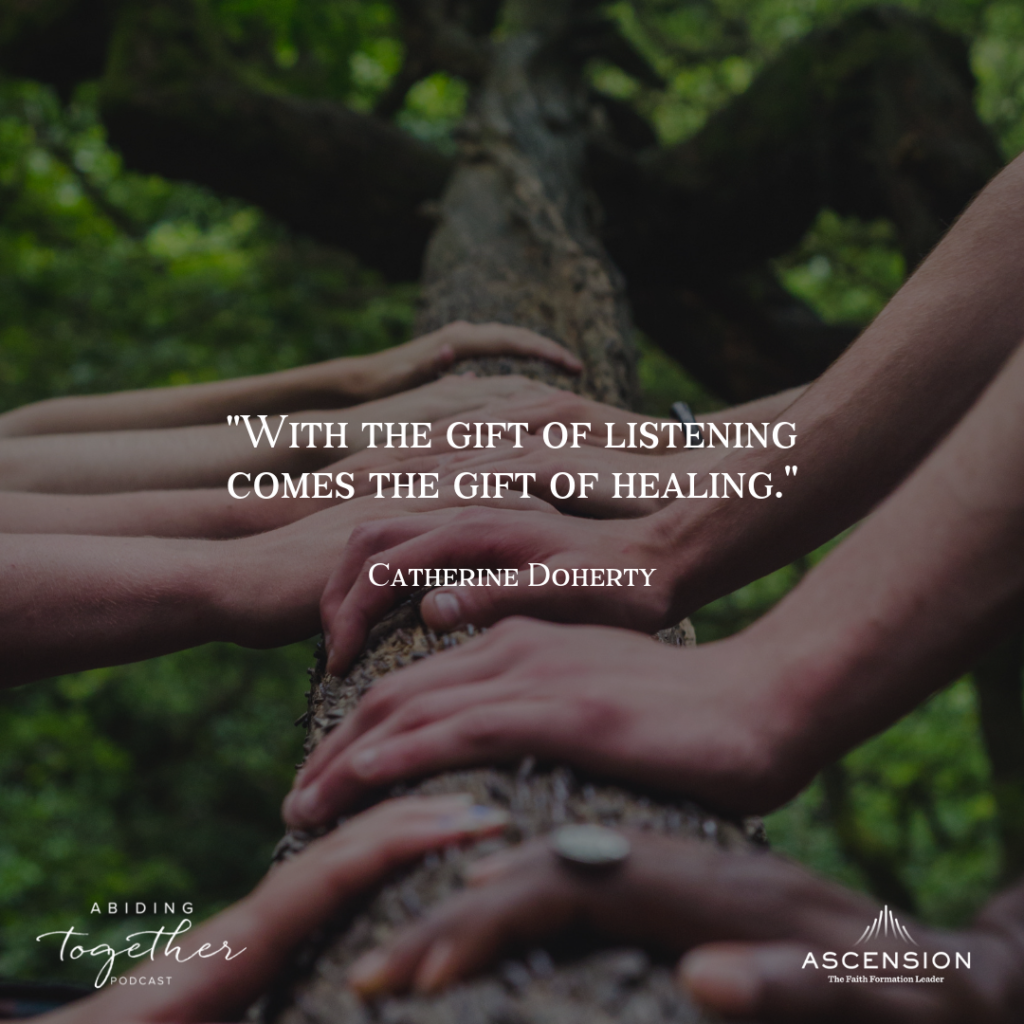 One Thing We Love this Week
Sister Miriam's one thing – Heather's Greek Salad (diced cucumber, grape tomatoes, bell peppers, sweet onion and feta (you can get it without goat milk if you like) and the amazing Abbotsford Greek Islands restaurant dressing.
Michelle's one thing – Reading books aloud with her daughter. She is using this website to read The Secret Garden.
Heather's one thing – Making an awesome charcuterie board. Here's a link with a video of how to make one. Also, you can pinterest this and find other cool ideas. I love including a raised bowl with some little chocolates in it as well. Dried apricots, mixed nuts, sliced pepper salami, Boursin, baby dills, cheese, brie, are some of my favorites.
Discussion questions
What blesses you the most in good conversation?
What makes you feel safe in conversation and what makes you feel uncomfortable?
What is bringing you joy right now in your life?
What is a theme going on in your life this year?
What does restored femininity (masculinity) look like?
Journal Questions
Do you spend more time sharing or listening in conversations? How can you grow in the area that you're not as strong in?
Who is someone in your life that you need to make time to sit at their feet more often?
What holds you back from sharing your heart?
Quote to Ponder
"We cultivate love when we allow our most vulnerable and powerful selves to be deeply seen and known, and when we honor the spiritual connection that grows from that offering with trust, respect, kindness and affection." – Brene Brown

Scripture for lectio divina – Sirach 6:14-16
"Faithful friends are a sturdy shelter: whoever finds one has found a treasure. Faithful friends are beyond price; no amount can balance their worth. Faithful friends are life-saving medicine; and those who fear the Lord will find them."
---
Meet Your Hosts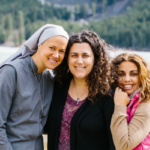 Abiding Together is a weekly podcast hosted by Michelle Benzinger, Sr. Miriam James Heidland, and Heather Khym.
If you would like to contact the ladies of Abiding Together, email us at abidingtogether@ascensionpress.com