Today on the Abiding Together Podcast, Sister Miriam, Michelle and Heather talk with special guest, Dr. Bob Schuchts. Dr. Bob has been a marriage and family therapist for 40 years and is the founder of the JP II Healing Center. He shares about the five areas of intimacy in marriage and the role of healing and restoration in the places that have hurt that intimacy.
Check out more info about Dr. Bob's ministry
Also, check out his books: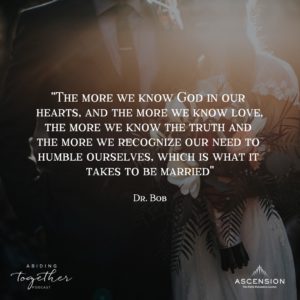 One Thing We Love This Week:
Sister Miriam's One Thing – The playlist "Peaceful Classical Music"
Michelle's One Thing – The Netflix series "Call the Midwife"
Heather's One Thing – Jake taking me to see Justin Timberlake! So fun.
Dr. Bob's One Thing – The book "The Same Kind of Different As Me"
Discussion Questions:
1) Which one of the 5 areas of intimacy do you struggle with the most? If you're not married this still applies. (spiritual unity, emotional intimacy, daily companionship, cooperative teamwork, sexual intimacy)
2) What are the places that you need to work at keeping your heart open in relationships, when you feel the fear of being hurt?
3) How do you need to be more honest in your closest relationships?
4) What is the next right thing you need to do in your marriage (or closest friendship or personal life)?
Journal Questions:
1) What issues from your childhood and dating relationships did you bring into your marriage (or will bring into your marriage or future vocational calling)?
2) How can I become more receptive to the love of God, so that I can share that more easily in my marriage or close relationships?
3) If you're married, consider having the conversation Dr. Bob suggested. "What is the state of our union"? And use the 5 areas of intimacy as a guide.
4) Where do you need to offer forgiveness?
Quote to Ponder:
"Our most natural tendency is to try to get the other person to be what we need so that we can be loved well. Rather, to let go of that and just honestly love somebody, is when God becomes present." – Dr Bob Schuchts
Scripture for Lectio Divina – Ephesians 4:2-3
"Be completely humble and gentle; be patient, bearing with one another in love. Make every effort to keep the unity of the Spirit through the bond of peace"
---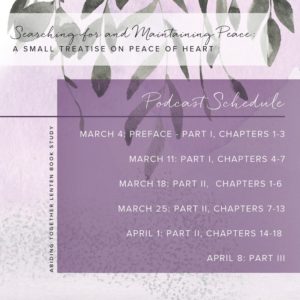 Next week we will begin our Lenten series on the themes of "Searching for and Maintaining Peace" by Fr. Jacques Philippe. This book is super small, but jam packed with wisdom. You don't need to read the book to follow the podcasts, but if you'd like to read it, you can purchase it on Amazon.
---
Meet Your Hosts:
---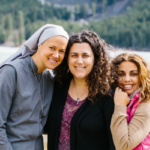 Abiding Together is a weekly podcast hosted by Michelle Benzinger, Sr. Miriam James Heidland, and Heather Khym. If you would like to contact the ladies of Abiding Together, email: abidingtogether@ascensionpress.com.