The well-known idiom, in use since 1639, characterizes today's scientific way of thinking: seeing is believing. It suggests that we truly know something only when we have concrete evidence or unassailable logic. When it comes to religion, however, adopting it appears counter-factual. After all, the Bible tells us:
"Now faith is the assurance of things hoped for, the conviction of things not seen." (Hebrews 11:1).
Without delving into the dichotomy between science and faith, or correcting the mistaken assumption that they are contradictory, we can appropriate the meaning of the idiom differently when it comes to being in church.
Faith Seen through Actions
St. Paul poses the epistemological point, but with regard to another of the five senses:
"How can they call on him in whom they have not believed? And how can they believe in him of whom they have not heard? And how can they hear without someone to preach?" (Romans 10:14).
Disciple-making clearly requires speaking and hearing. While that seems patently obvious, proclaiming the gospel constitutes the missionary mandate of the Church as dictated by the risen Jesus to his disciples: 
"Go, therefore, and make disciples of all nations, baptizing them in the name of the Father, and of the Son, and of the holy Spirit, teaching them to observe all that I have commanded you" (Matthew 28:19-20).
Though no mention is made of seeing, that sense also factors into the Faith.  We know the power of giving testimony or witness to the Faith. We celebrate martyrs and saints as people whose faith could be seen through their actions. These holy ones are "living stones" of the Church in its biblical origins (1 Peter 2:5) and throughout its history.
Reaching the Back Pews
In today's Church, seeing is needed for believing in another sense. Without being able to see what's going on there, participation by the congregation is diminished, if not doomed. Without being able to participate at this most basic level, parishioners understandably become no-shows.
Classic church architecture has recognized the importance of hearing. In some sites, the pulpit is raised above the nave where people congregate; some are higher still than the sanctuary. Thus, the Word, proclaimed and preached, transcends the din below and calls the assembly upward. Microphones now project the sound throughout the building.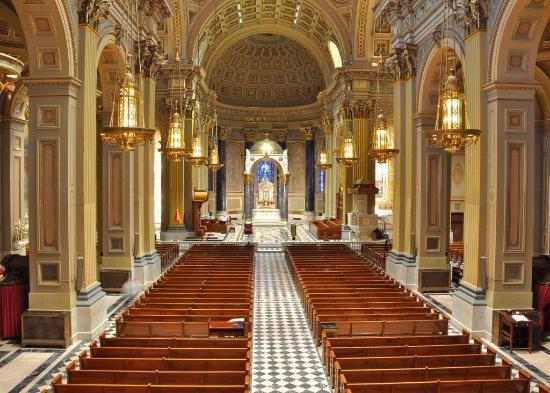 But seeing is a challenge yet unaddressed. In many churches, the largest number of seats are situated at the greatest distance from the spot where the action takes place. Who hasn't jokingly pointed out that Catholics always sit in the back pews?
But this reality makes it hard for many people to see what's happening. It's especially hard on children, whose short stature and even shorter attention span already put them at a disadvantage.
Unseen Glory
Why not use technology to facilitate sight, as we have done with microphones for sound? If what is happening in the sanctuary is not simply intended for those ministering there, why not make it viewable to everyone, even those in the back of church?
We live in a visual culture. Images are now more prominent than texts. Anyone with a phone can be a photographer. Videos are a staple of communications, with screens now prominent at any large gathering of people. Even children, at alarmingly earlier ages, grow up with screens to occupy their attention.
Yet in church, the sacred celebrations that have such unparalleled religious significance cannot easily be seen by many.
Participation Requires Attention
Throughout history, visual arts—icons and statues and sacred symbols—have contributed to the sacramental sensibility at the core of religious belief. Spirituality benefits deeply from the cultivation of a religious imagination. For faith to flourish, it must be seen—materially, conceptually, and existentially.  
As worship leads to witness, so inspiration precedes exemplification. Larger parishes today need to facilitate the former terms, by remedying the viewing problem in their churches.
Placing a video screen on every church pillar can be done with decorum. Livestreaming events, or using closed circuit television, would make the sacred action more visible; it may even calm the otherwise rambunctious children, thereby allowing their parents and the nearby congregants to worship more attentively. Given the number of young people learning and working in the fields of social communications, finding assistance to make this happen should not be difficult and could be advantageous as outreach to that generation.
If what takes place in church is essential to the lived experience of the Faith, and if conscientious participation first demands attention to what is going on, then seeing is certainly needed for believing.
The Ascension Blog thanks Catholic Leadership Institute for contributing the is article.
---
You May Also Like:
---
Fr. Tom Dailey, a priest in the Oblates of St. Francis de Sales (OSFS), serves as a research fellow and spiritual advisor at the Catholic Leadership Institute in Wayne, Pennsylvania. He holds the John Cardinal Foley Chair of Homiletics and Social Communications at St. Charles Borromeo Seminary in the Archdiocese of Philadelphia. He writes a monthly column and does occasional podcasts for CatholicPhilly.com. Check out his feature on CatholicSpeakers.com.
---
Featured photo by Karl Fredrickson on Unsplash