Catholic singer-songwriter Taylor Tripodi shares how she learned to combat spiritual laziness with God's grace. She first felt a lack of desire to pray after getting back from a Steubenville conference, where she experienced a spiritual high that ended up being a spiritual low when she returned to her regular life.
She noticed that it's important to figure out why you don't want to pray. Sometimes sin keeps us from our relationship with God. Other times, there's a big choice you have to make, but you aren't ready to receive God's answer. In these times, three things help immensely:
The sacrament of confession. Taylor says this is basically a reset button on your spiritual life that can get you back on track.
Intentionality. If you schedule in just ten minutes of prayer, God will bless that. "The soul of the sluggard craves, and gets nothing, while the soul of the diligent is richly supplied" (Proverbs 13:4). God respects our space, but if you invite him in he can do so much with whatever you give him.
Surround yourself with people of holiness. Many times the Lord gives us other people in our life to help us draw closer to him.
Lastly, don't fight yourself. Surrender to Jesus.
Here is the Surrender Novena Taylor mentions in the video.
---
Meet Taylor Tripodi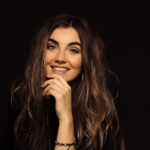 Taylor is a twenty-something cradle Catholic from Cleveland, Ohio aspiring for sainthood. She graduated from Franciscan University, majoring in theology and catechetics and is now a full-time musician, traveling all over and spreading God's unfailing love through word and song. In her spare time, she enjoys making scented candles, seeking adventure, and being present to her large, crazy, Italian family. Want to hear her sing? Check out www.taylortripodi.com.