Fr. Josh Johnson gives four reasons why we may experience dryness in prayer, and they're all experiences we are probably familiar with:
Our sin: Sometimes our heart is oriented toward the wrong things, and this interferes with our ability to perceive God's presence.
We're sick and/or tired: Sometimes we just don't feel well, had a long day, and/or didn't get enough sleep. This may be inevitable, but remember that God notices our every effort to pray. 
God is simply purifying us. St. John of the Cross speaks of the dark night of the soul, where God invites us into a deeper relationship with him by depriving us even of his consoling, inspiring presence—so we learn to desire nothing but him alone.
We are praying, but not in the way God wants us to pray in that season of our lives. Maybe praise and worship music used to be an effective way for you to pray, but now God is inviting you to experience a different part of him. Pay attention to where you are experiencing the most peace and most intimacy with God. That's how God wants you to pray.
We hope these causes of dryness in prayer shed some light on what you are going through, and help you discover where God is leading you next.
Check out Fr. Josh's new book, Pocket Guide to Adoration, wherein he equips us with the tools needed to abide with God in a deeper way through prayer.
More free resources from Fr. Josh on Adoration:
---
Meet Fr. Josh Johnson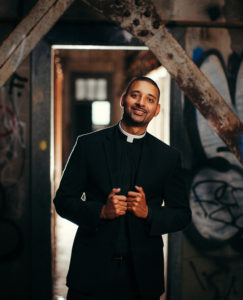 While Fr. Josh was raised Catholic, he didn't like the Church growing up. Then, one day in adoration, he fell in love with Jesus and received the call to become a priest.
Now, Fr. Josh is the pastor for Our Lady of the Holy Rosary Catholic Church in Louisiana, and he is a presenter in three of Ascension's programs: Altaration, YOU: Life, Love, and the Theology of the Body, and The 99 as well as the author of Broken and Blessed: An Invitation to My Generation.