Fr. Mike speaks about evangelization, new media, and telling the story of God's love at St. Charles Borromeo Seminary in Philadelphia. Addressing future pastors, he tells them "the heart of your formation is to become a dad" to your parishioners. He encourages them to use the same motto they use at the Newman Center of the University of Minnesota, Duluth, where he serves as campus minister. The motto he shares with students there is "See a need, fill a need."
In other words, you don't have to wait for permission to share the gospel, to be charitable, or to do good.
Evangelization in the new world is at its heart no different than it's always been. As Pope St. Paul VI shared in Evangelii Nuntiandi, if you're baptized, you've been anointed to spread the gospel. And as Christ says when commissioning the apostles:
"You shall receive power when the Holy Spirit has come upon you; and you shall be my witnesses in Jerusalem and in all Judea and Samar′ia and to the end of the earth" (Acts 1:8).
Christ is saying it's our job to continue his mission.
But it's not all about going out. We also need to go in, to look inward. Before we go out to evangelize, we need to invite Christ into our hearts.
What does it mean to know him? And what does all of this have to do with new media? It's all connected because of one word: story. Evangelization is about telling the story of God's love as you have experienced it, and new media is just a new medium for spreading that centuries-old message, the kerygma.
How do you become a Catholic speaker? "Well, you get baptized and then you start talking" Fr. Mike says.
Opportunities will come, but your first yes has to be to Christ. And the opportunities don't have to be to speak to thousands of people thousands of miles away. Saying yes to Christ means being willing to talk about him to one person one block or one house away, or just to the person in front of you. Just as it starts with a personal encounter with Christ, the next step is to tell the story of God's love for you to one person.
So how do we evangelize with new media? We don't if we aren't willing to do it without new media.
Also, getting into new media requires more than a person sitting in his living room sharing his opinion on something. It requires an entire Church community, and you. The speaker speaks, the team puts everything together, but the most important piece is the person who shares the video, program, podcast, or article with someone they know and love.
At the end of the talk, Fr. Mike answers questions about what role social media should play in a seminarian's formation, and a pastor's mission, among other questions.
Check out St. Charles Borromeo Seminary and their John Cardinal Foley Chair of Homiletics & Social Communications
---
Meet Fr. Mike Schmitz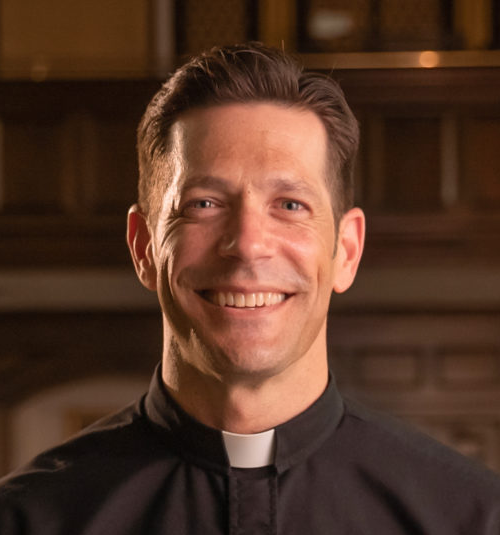 Fr. Mike Schmitz serves as Director of youth and young adult ministry for the Diocese of Duluth and as chaplain for the Newman Catholic Campus Ministry at the University of Minnesota-Duluth.
He is a presenter in Ascension's Chosen, Altaration, and The 99 programs, and has a channel on Ascension Presents.