Following up on his video about what to do in Eucharistic Adoration, Fr. Josh Johnson offers some practical tools and techniques to help you make time for Adoration, by asking simply "When, where, what, who, and why?"
Where? Is there a parish nearby with an Adoration chapel? Don't just be arbitrary about it. Pick a location.
What? What are you going to bring with you? You can bring your Bible, your Rosary, a Catholic spiritual book like Fr. Josh's Pocket Guide to Adoration. Also, what are you going to do to avoid distractions? Maybe sitting in the back of the chapel distracts you. Maybe your cell phone distracts you. 
Who? Have someone who holds you accountable to your time with Jesus, someone to check on you and ask, "Did you make it to Adoration today?"
Why? Why am I giving Jesus this time? When we do Adoration correctly, it draws us to worship God. We will be able to imitate Jesus in our walk toward eternity. By being in his presence, he will change us over time. Remember Dismas, who was transformed on his cross just by being near Jesus (Luke 23-42-43).
---
Meet Fr. Josh Johnson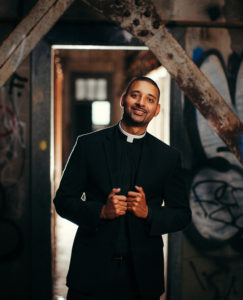 While Fr. Josh was raised Catholic, he didn't like the Church growing up. Then, one day in adoration, he fell in love with Jesus and received the call to become a priest.
Now, Fr. Josh is the pastor for Our Lady of the Holy Rosary Catholic Church in Louisiana, and he is a presenter in three of Ascension's programs: Altaration, YOU: Life, Love, and the Theology of the Body, and The 99 as well as the author of Broken and Blessed: An Invitation to My Generation.