Fr. Josh answers questions about what is the meaning of "world without end" in the Glory Be, how are we ever worthy of reception of Holy Communion, and if the Catholic Church is a cult.
Snippet from the Show


We are purged and cleansed of our venial sins and imperfections each and every time we
approach Jesus in Holy Communion.
---
Shownotes
Glory Story
I so appreciate your honest answers and call to holiness. Praying for people I struggle with and seeing Christ in others is a constant reminder you give that has been such a blessing. Thank you!
-Mary
Questions
Is Catholicism a Cult?

Hey Fr. Josh! I am a (Catholic) University Student and was chatting with a classmate. The topic of religion came up and after claiming that she is not 'religious' but 'spiritual' she said that all religions are cults (in particular the Catholic Church), giving this as her primary reason for not being 'religious'. She was unwilling to discuss this further so I wasn't able to say much to the contrary. I know this is just a snappy and trendy excuse in our culture to paint the church as bad, however, it got me thinking about how one should best address this topic when confronted? I am not well versed enough on the definition and nature of a cult to confidently handle such a discussion should she decide to initiate it again. In short my question is: What differentiates the Catholic Church from a Cult? And how would you approach this topic in a discussion/debate?
-Alisa

Worthiness Approaching Communion

Hi Father Josh. Praise be to God for this awesome podcast that you have! I'm a cradle Catholic who "reverted" to the faith about a year and a half ago. I started listening to your show during quarantine and one episode, in particular, spoke to my heart at the time. It was your episode about soul ties. After listening to it, I immediately scheduled a confession, and from that day on, I have been deepening my relationship with the Lord.
My questions are: Because we are all sinners, and we will always be sinners by nature, how are we ever worthy of receiving Communion if we're never in a true state of grace? How are any of us worthy to immediately enter into heaven with Jesus if we are all unclean in some way? When we do confess our sins, and we truly mean to never sin again, how can this ever be possible considering we are not divine beings?
Thanks for helping me out with these questions. Know that I'm praying for you!

Blessings,
Natasha
The Meaning of "World Without End"

Hello, I really want to enter into my prayers more deeply and focus on the words and their true meaning. That being said, I don't fully understand why the last line of the Glory Be states, "World without end". This seems contrary to our belief in the resurrection of the body. Can you help me understand this?
Thank you,
Mary
Resources
---
Meet Fr. Josh Johnson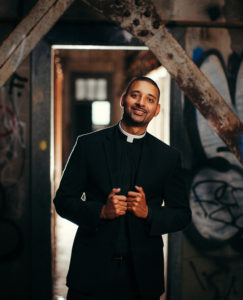 While Fr. Josh was raised Catholic, he didn't like the Church growing up. Then, one day in adoration, he fell in love with Jesus and received the call to become a priest.
Now, Fr. Josh is the Vocations Director of the Diocese of Baton Rouge in Louisiana. He is a presenter in four of Ascension's programs: Altaration, YOU: Life, Love, and the Theology of the Body, The 99, and Connected: Catholic Social Teaching for This Generation, as well as the author of Broken and Blessed: An Invitation to My Generation, Pocket Guide to Adoration, and co-author of Pocket Guide to Reconciliation.