Why do we hear the Passion narrative twice during Holy Week? And who gets to participate in proclaiming those Gospels? Fr. Josh answers these questions in today's episode. He also shares about an incredible woman who is on her way to canonization.
Snippet from the Show
To help prepare yourself and enter into it more fully, take the time to meditate on the readings prior to Mass.
---
Shownotes
Glory Story (3:00)


Listener Question (7:00)
Why is it that we read the readings of the Passion on Palm Sunday that we also read during the Holy Triduum? Is it appropriate for a lay person to read the person of Christ?
Saint Story: Venerable Mary of Agreda (12:23)
Venerable Mary was born in 1602 in Agreda, Spain. She was born into a royal family that raised her in the Catholic faith. From a young age she showed great aptitude for the spiritual life. Due to her advancement in faith at this young age, allowed her to receive her First Communion earlier than most children at that time.
When she was seventeen years old, Mary entered the Poor Clares of the Immaculate Conception. She flourished in this vocation and continued to grow in her faith and desire to serve the Lord and others. When she was just twenty-five years old, she was elected abbess. She was continually elected for the next thirty-eight years until she died. By her own request, she did take three years off from the role.
As the abbess, Mary's humility and servant heart remained. She did some of the most menial tasks herself and practiced great penances. Her goodness and spiritual understanding were known throughout the country. She was sought out for advice by many including bishops and the king of Spain. Venerable Mary is also known for her revelations regarding the life of Mary. These revelations can be found in her book The Mystical City of God.
---
Resources
---
Meet Fr. Josh Johnson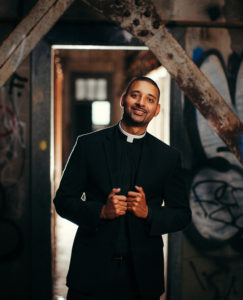 While Fr. Josh was raised Catholic, he didn't like the Church growing up. Then, one day in adoration, he fell in love with Jesus and received the call to become a priest.
Now, Fr. Josh is the Vocations Director of the Diocese of Baton Rouge in Louisiana. He is a presenter in four of Ascension's programs: Altaration, YOU: Life, Love, and the Theology of the Body, The 99, and Connected: Catholic Social Teaching for This Generation, as well as the author of Broken and Blessed: An Invitation to My Generation, Pocket Guide to Adoration, and co-author of Pocket Guide to Reconciliation.