Why is it that only priests are able to consecrate the Eucharist in the Mass? In this episode, Fr. Josh explains the Scriptural teachings as well as the teachings handed down by the Church behind this, and we also hear the story of St. Charles de Foucald, who teaches us to listen to the voice of God, to follow where he leads us, and to trust he will sustain us in our ministry and in our daily life.
Snippet from the Show
Even though the fruits of our labors may be invisible, God is still present and still working.
Shownotes
Glory Story (03:20)

Why Can Only Priests Consecrate the Eucharist? (04:10)
Why is it only a priest who can consecrate the Eucharist? If a sacrament is effective by themselves (ex opere operato), then why only a priest?
-Yayeen
Saint Story: St. Charles De Foucauld (12:40)
St. Charles de Foucald left the church early on in his life, but it was in meeting some Muslims who were passionate and dedicated with their religion that he was inspired to ask questions and re-examine the religion that he was brought up in, the Catholic faith. Through this journey of discernment he fell in love with the Church and with Christ, who then invited him to become a priest. Once he was ordained a priest, he received permission from his local bishop to serve the Church in Saudi Arabia, where he founded a religious order and began to serve the Muslim community. His mission on earth came to an end in 1916 when he was killed by members of that Muslim community, but the fruits of his mission remain to this day, as three religious orders were founded in his name, practicing the charisms St. Charles practiced. Thousands of Muslims have converted to the Church since!
---
Resources
---
Meet Fr. Josh Johnson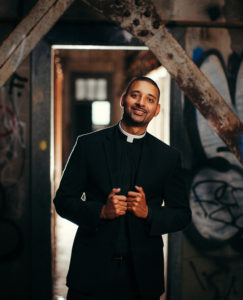 While Fr. Josh was raised Catholic, he didn't like the Church growing up. Then, one day in adoration, he fell in love with Jesus and received the call to become a priest.
Now, Fr. Josh is the Vocations Director of the Diocese of Baton Rouge in Louisiana. He is a presenter in four of Ascension's programs: Altaration, YOU: Life, Love, and the Theology of the Body, The 99, and Connected: Catholic Social Teaching for This Generation, as well as the author of Broken and Blessed: An Invitation to My Generation, Pocket Guide to Adoration, and co-author of Pocket Guide to Reconciliation.