The sixth Station of the Cross is where St. Veronica wipes the face of Jesus—and her example of reaching out to Jesus, even though she couldn't change anything, is a powerful statement of love.

Wiping Jesus' face seemed to be a futile effort, since his face would be bloody and sweaty again soon, but that small act of human kindness can actually count for a lot. To look into someone's eyes, and let them know that they are loved, even if it's all you can do, can be an enormous comfort.

Snippet from the Show

Even when you can't fix the problem, know that it's not always about that. We are called to wipe the face of Jesus, just like St. Veronica, even if it's going to be bleeding again in a few moments.
---
Meet Your Host, Colin MacIver: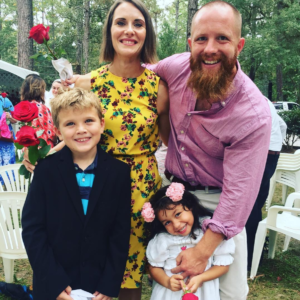 Colin is an enthusiastic transplant to vibrant Louisiana, where he lives with his beautiful wife Aimee and two energetic children, Leo and Zélie. His juggling act involves being a husband, a dad, a teacher, a youth minister, a musician and a national Ascension content creator and trainer.
In his spare time, he eats too many crawfish, savors king cake, plays one-on-one kickball with his son, and tries, for the life of him, to properly load the dishwasher.
Check out Colin's latest work with Ascension: Power and Grace: A Guide to the Catholic Sacraments and Quick Catholic Lessons with Fr. Mike.