Fr. Josh answers questions on the year of St. Joseph announced by Pope Francis, the mystery of the Incarnation, and the details of fasting before receiving Holy Communion.
Snippet from the Show


"For the Son of God became man so that we might become God."- St. Athanasius
---
Shownotes

The Year of St. Joseph

Hi Fr. Josh. Thanks for your podcast and for encouraging me to sit down and actually read the Bible before doing other stuff. I appreciate the reminder. It's drawn me closer to God praise be My question is something you had mentioned on your podcast. You mentioned that Pope Francis recently said next year is the Year of Joseph. What does that mean, the year of? What should I be doing to celebrate or recognize or give thanks? Any help or insight would be much appreciated. Thank you Father.

-Steph

The Incarnation

Hi Fr. Josh,

Now that we are in the season of Advent and preparing for the coming of Christ, I've been thinking more about the mystery of the Incarnation. I was wondering if you could help me understand why God would want to become one of us and how is Jesus God and man at the same time? I know that our human minds may never comprehend the incarnation perfectly, but could you elaborate a little bit on this part of Christianity?

–Oscar

Fasting before Communion

Hi Fr. Josh! I love your podcast and listen to it all the time while I'm working out. My question pertains to the Eucharistic fast. What if you accidentally break it — should you not receive communion? Is it a sin if you still receive after you've eaten inside the hour? Thanks!
-Magdalene
Resources
---
Meet Fr. Josh Johnson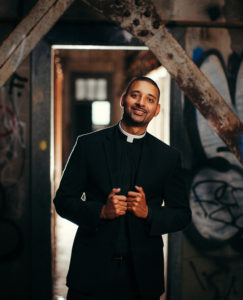 While Fr. Josh was raised Catholic, he didn't like the Church growing up. Then, one day in adoration, he fell in love with Jesus and received the call to become a priest.
Now, Fr. Josh is the Vocations Director of the Diocese of Baton Rouge in Louisiana. He is a presenter in four of Ascension's programs: Altaration, YOU: Life, Love, and the Theology of the Body, The 99, and Connected: Catholic Social Teaching for This Generation, as well as the author of Broken and Blessed: An Invitation to My Generation, Pocket Guide to Adoration, and co-author of Pocket Guide to Reconciliation.