Today in the Abiding Together Podcast, Sr. Miriam, Heather, and Michelle progress with the book study on the Lion, The Witch, and the Wardrobe (chapters 9-12). They continue to relate the story concepts with our spiritual life by discussing themes like the false narrative of the enemy, the dynamic of stoney hearts that God wants to restore and turn to flesh, true living of the paschal mystery, and the power of God's resurrection power in our lives. We hope you enjoy this episode!
One Thing We Love This Week:
Michelle's One Thing – The movie "Gifted"

Heather's One Thing – The Abiding Together small groups! We love you!
Discussion Questions:
1) What is one of the false narratives that the enemy has been telling in your life?
2) What do you think the Father wants to say about that?
3) What area of your heart do you feel has been turned to stone or has been hardened? Why?
4) "Hurting people, hurt people". Discuss this concept and how we can offer a response of healing.
5) Where have you settled for the dry bread from the enemy instead of the banquet that God is offering to you?
Journal Questions:
1) Instead of being child like, we can be childish with God. What is the difference between those two dynamics that you can see in your own life?
2) The enemy makes empty promises. What is one that you can see he has made to you in your life?
3) What is one promise of God and His faithfulness that you have seen at work in your life?
4) "Battle looks like surrender". What is one battle that you need to move into a disposition of surrender to God?
Quote to Ponder:
"Aslan is on the move" – C.S. Lewis – The Lion, the Witch, and the Wardrobe
Scripture for Lectio Divina – Ezekiel 36:26
"A new heart I will give you, and a new spirit I will put within you; and I will remove from your body the heart of stone and give you a heart of flesh."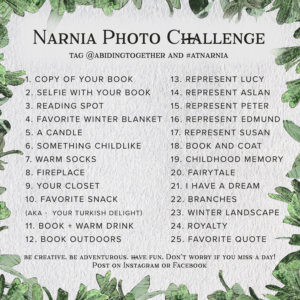 ---
Meet Your Hosts: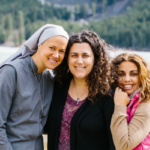 Abiding Together is a weekly podcast hosted by Michelle Benzinger, Sr. Miriam James Heidland, and Heather Khym. If you would like to contact the ladies of Abiding Together, email: abidingtogether@ascensionpress.com.