Fr. Josh answers questions on celebrating Halloween as Catholics, feeling a calling to the priesthood later in life, and how to use social media in a saintly way. 
Snippet from the Show


Halloween comes from the Catholic feast All Hallow's Eve, referring to the solemnity of All Saints. This is an opportunity to remember the lives of the saints, the faithfully departed, and our joy in Christ who has conquered death.
---
Shownotes
Glory Story (1:58)
Feedback (3:36)
Catholic Take on Halloween (5:02)
Hi Fr. Josh,
After 25 years as a baptized Catholic I just recently learned that Halloween or All Hallows' Eve is of Catholic root. I'm trying to learn how to reclaim Halloween as something good and contemplate the lives of the Saints. As October 31st quickly approaches, how can I celebrate the Holiday as an individual and as a family?
-Anonymous
Becoming a Priest later in life (8:35)
Hi Father Josh I'm a longtime listener to your beautiful podcast. I'm a 44 year old doctor in the southern United States. I am in this profession not because it is my passion, but because it's kind of a family tradition, especially in my culture (my family is Anglo-Indian). I'm a cradle Catholic who wandered away from my faith for almost 20 years and I have the most amazing reversion story. Basically, because I lost a bet to a friend from Catholic School I had to go to confession for the first time in over 20 years and for the first time felt The Holy Spirit in me, consoling me, and welcoming me back home. Ever since that moment, I've had amazing testimonies to the Spirit working in my life. Those are stories for another day, however. I am writing to you now to ask you about the priesthood. When I was a child, I often thought that I would become a priest. Obviously, it didn't work out that way. Now, I am much older and was wondering if there are priests who became ordained at my age. I am not passionate about medicine although I am paid very well. I have been on fire with my faith for the several years since I came back to The Church. Although I have had many stumbles since I've been back with my battles with addiction to pornography and pot, I will NEVER leave my faith again. Is it possible for someone with my background to study to become a Catholic Priest? Would I have to give up my 2 dogs and cat to enter the seminary? Thank you so much for all the good work you do spreading The Gospel. God Bless
-Anonymous
Using Social Media in a Holy Day (14:20)
Fr. Josh,
Hi Father Josh, I was wondering if you think Jesus would have used social media. I see so many posts celebrating secular ideas and don't know if I'm called to respond or ignore them. Thank you!
-Stephanie
Resources
Submit your questions and feedback to Fr.Josh by filling out a form at www.ascensionpress.com/askfatherjosh
Ascension is pleased to offer our new and improved online bible study programs and sacramental preparation programs digitally to help you minister with flexibility. Go to ascensionpress.com to view all our offerings.
---
Meet Fr. Josh Johnson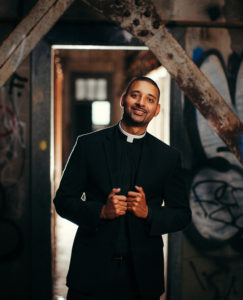 While Fr. Josh was raised Catholic, he didn't like the Church growing up. Then, one day in adoration, he fell in love with Jesus and received the call to become a priest.
Now, Fr. Josh is the Vocations Director of the Diocese of Baton Rouge in Louisiana. He is a presenter in four of Ascension's programs: Altaration, YOU: Life, Love, and the Theology of the Body, The 99, and Connected: Catholic Social Teaching for This Generation, as well as the author of Broken and Blessed: An Invitation to My Generation, Pocket Guide to Adoration, and co-author of Pocket Guide to Reconciliation.