In this episode, Fr. Josh answers questions about whether or not there are tears in Heaven, Mary feeling anger, and how to work through scrupulosity.
Snippet from the Show
In Heaven, we will see things as God sees them.
---
Shownotes
Check out Fr. Josh's new book On Earth As It Is in Heaven: Restoring God's Vision of Race and Discipleship here!
Glory Story (2:25)
No Tears in Heaven (5:26)
If there are no more tears or weeping in Heaven, then when we ask the saints to pray for us, do they experience our pain and sorrow? If I understand correctly, our Holy Mother, Mary, weeps for us.
-Theresa
Did Mary Feel Anger?
Father Josh, most people talk about the suffering that Mary experienced during the passion and death of her son, but wouldn't she have experienced anger too? Wouldn't she have felt outraged at the pain and suffering being inflicted on her son? I know she would never have acted on any anger she felt because she is without sin, but that doesn't mean she didn't feel it, right? Can you help clarify, thank you.
-Bridget
Struggling with Scrupulosity
Hello Father Josh! I have been dealing with ocd/scrupulosity and I have a question. I confessed my mortal sins from the past year or so and I didn't really know and forgot to say how many times I committed the mortal sin. Does this mean that I have to re-confess those sins again or was my confession valid?
-Anonymous
---
Resources
---
Meet Fr. Josh Johnson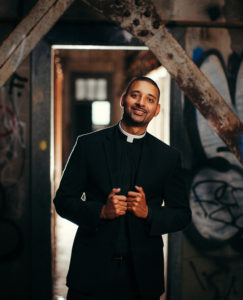 While Fr. Josh was raised Catholic, he didn't like the Church growing up. Then, one day in adoration, he fell in love with Jesus and received the call to become a priest.
Now, Fr. Josh is the Vocations Director of the Diocese of Baton Rouge in Louisiana. He is a presenter in four of Ascension's programs: Altaration, YOU: Life, Love, and the Theology of the Body, The 99, and Connected: Catholic Social Teaching for This Generation, as well as the author of Broken and Blessed: An Invitation to My Generation, Pocket Guide to Adoration, and co-author of Pocket Guide to Reconciliation.