What does it mean to be virtuous? Virtue is a word that is mentioned often when talking about faith and the lives of the saints. However, do we understand what it means? Today, Fr. Josh is joined by author Andrew Whitmore to talk about the virtuous life and also discuss Andrew's new book Saintly Habits: Aquinas' 7 Simple Strategies You Can Use to Grow in Virtue.
Snippet from the Show
When you aren't able to overcome a challenge, it takes great courage to endure it instead.
---
Shownotes
Check out Dr. Andrew Whitmore's new book Saintly Habits: Aquinas' 7 Simple Strategies You Can Use to Grow in Virtue
Glory Stories (1:50)


Today's Guest: Dr. Andrew Whitmore (7:46)
In Saintly Habits: Aquinas' 7 Simple Strategies You Can Use to Grow in Virtue, Catholics will find a guide to virtue that will transform their understanding of what a virtuous life looks like and teach them how to put their new knowledge into practice.
Written by professor Andrew Whitmore, Saintly Habits makes the theological wisdom of St. Thomas Aquinas accessible to modern-day Catholics with explanations of:
What virtue is and is not
How the virtues are connected
The difference between virtues and vices
What conscience is and how to form it
How to break bad habits and foster good ones
Why prayer and the sacraments are necessary for spiritual progress
Featuring anecdotes, relatable analogies, and practical suggestions that animate this presentation of the virtues, Saintly Habits takes a positive and encouraging approach to a seldom discussed topic by illustrating how St. Thomas' seven strategies provide a roadmap for our spiritual journey that we can apply to our daily lives.
By encouraging us to understand the virtues we already possess as Catholics, God's desire for us to be holy, and the Church's role in supporting our journey of faith, this book provides the tools that we need to answer the call to grow ever closer to Christ in virtue and holiness.
This book is perfect for men who are on the Exodus 90 journey.
Saint Story: St. Philip Neri (25:21)
Philip Neri was born in 1515 in Italy. He was raised in a Catholic family with three siblings. He was known to be a very good natured child. Initially, it looked as though he would inherit the family business, but ended up choosing to pursue a life in service to the Lord.
After just a few years of study, Philip decided that he would no longer pursue ordination and went to live in Rome. He lived a very simple life and spent a lot of time walking the streets and talking to people. You could call what he did "street evangelization."
Eventually, Philip founded a confraternity for poor laymen. They came together for prayer and served the poor. As he continued to do good work, Philip was convinced to pursue the priesthood and was ordained in 1551.
As a priest, Philip spent hours in the confessional. He had a desire to serve as a foreign missionary, but decided to instead continue serving the people around him. This work included founding the Congregation of the Oratory which was officially recognized by the Pope in 1575.
Throughout his life, Philip worked hard to serve others everyday. He did his best to meet the needs of whomever he encountered.
St. Philip Neri died in 1595 at the age of eighty years old. He was canonized in 1622.
---
Resources
---
Meet Fr. Josh Johnson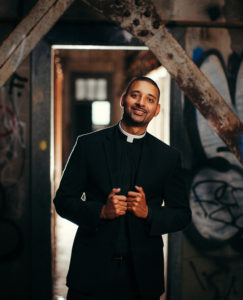 While Fr. Josh was raised Catholic, he didn't like the Church growing up. Then, one day in adoration, he fell in love with Jesus and received the call to become a priest.
Now, Fr. Josh is the Vocations Director of the Diocese of Baton Rouge in Louisiana. He is a presenter in four of Ascension's programs: Altaration, YOU: Life, Love, and the Theology of the Body, The 99, and Connected: Catholic Social Teaching for This Generation, as well as the author of Broken and Blessed: An Invitation to My Generation, Pocket Guide to Adoration, and co-author of Pocket Guide to Reconciliation.