In this special edition of Ask Father Josh, Fr. Josh answers questions from college students. He discusses how to develop a consistent prayer life when you have a busy schedule and how to cultivate cultural diversity in campus ministry. He also shares inspirational saints who were holy when they were young. 
---
---
Snippet from the Show


"The higher we go, the better we shall hear the voice of Christ."- Blessed Pier Giorgio Frassati
---
Shownotes
SPONSOR
Ascension is proud to partner with authentically Catholic institutions and organizations committed to spreading the Gospel. Learn more about the sponsor of this episode, Ave Maria University.
---
---
Questions
---
---
Consistent Prayer
Hey Father Josh,
First of all, I'd like to say your podcast has been a blessing for me. I found it a couple days ago when my fire for the faith was faltering a little. Your joy and passion reminds me that we are called to a joyful, loving life in Christ, both on Earth and in Heaven. A little background, I'm a freshman in college and a cradle Catholic. I first started my true faith journey when I encountered Christ at a Steubenville Conference, and I have since continued to grow my faith through the years along with many, many setbacks.
My question is about consistent prayer. One thing that I've always struggled to do is setting apart a specific time in my day for prayer. I pray throughout my day, offering parts of my day up, etc. But I struggle to make and keep that set time for prayer everyday, and I really do love the time I get to spend in extended prayer. When I try to start setting apart time to pray I run into the "problem" that I spend a lot of time in prayer. If I get rid of distractions, I can easily spend an hour + reflecting or reading scripture when I only mean to for 15 minutes. But I am in a very competitive major, and in order to not bring more stress on myself, or lose a huge amount of sleep, large blocks of time spent in prayer are difficult to come by. I am a very contemplative person by nature, and even structured prayers like the Rosary I end up sitting with for a long time. What is your advice on consistent, manageable prayer, or how to balance daily prayer life with time I do want to sit with God for a longer time? It feels wrong to set a timer or something like that, like I'm cutting God off before He is able to speak, but on the other hand, it's better than that 1-2+ hours once a week, I think.
I wish I had the time in the day to pray for as long as I'd like, but life doesn't allow for that sometimes as I'm sure you know.
-Jake 
---
---
Young Saints
Hi Fr. Josh!
I was wondering if you could share some saints who were holy when they were young? As a college student, I want to have role models to look up to in the faith that I can relate to. What are some saints that you think young people can find relatable and can imitate in our walk with the Lord.
Thanks,
Lauren
---
---
Diversity in Campus Ministry
Hi Fr Josh, I actively participate in my campus ministry and even help lead a couple of ministries. Something I often face is this feeling of imposter syndrome because most of the campus ministry is composed of caucasion individuals at an institution where there are a good amount of people of color. How does one battle imposter syndrome in living out the Catholic faith? How does one inspire others to evangelize to people of color? How do you share Jesus to people that feel the Catholic faith is for certain people and cannot praise Jesus through their own culture? What are the best ways to affirm my identity in Jesus when it feels like there is a barrier as a person of color?
Best Regards,
Marie 
---
---
Resources
---
---
---
Meet Fr. Josh Johnson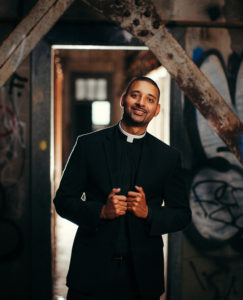 While Fr. Josh was raised Catholic, he didn't like the Church growing up. Then, one day in adoration, he fell in love with Jesus and received the call to become a priest.
Now, Fr. Josh is the Vocations Director of the Diocese of Baton Rouge in Louisiana. He is a presenter in four of Ascension's programs: Altaration, YOU: Life, Love, and the Theology of the Body, The 99, and Connected: Catholic Social Teaching for This Generation, as well as the author of Broken and Blessed: An Invitation to My Generation, Pocket Guide to Adoration, and co-author of Pocket Guide to Reconciliation.