Fr. Josh answers questions about returning to mass in during COVID, the validity of beach weddings and why we should consecrate ourselves to Jesus through Mary. 
Snippet from the Show


Christ came to us through Mary, and so we also return to him through Mary.
---
Shownotes
Glory Story (2:25)
Feedback (3:48)
Returning to Mass (6:24)
Hi Fr. Josh!
First, thank you for your openness to the Holy Spirit and for your 'yes' to God's call in your life. You are a gift to the Church.
I wanted to ask you a question in regards to the indefinite dispensation from the obligation of Sunday Mass currently in effect in my home diocese. I work for a parish in the Diocese of Toledo, Ohio and currently we are seeing a drop in the number of people attending Mass and the number of people livestreaming Mass.
I understand that the coronavirus is a real threat and high-risk individuals should stay home during this time, but not everyone is high-risk. Some people who are staying away from Mass are willing to eat out, go into grocery stores, visit a movie theater, etc., and these activities have just as much exposure as going into Mass.
My questions is: how can we as a parish encourage able individuals to come back to Mass and how can we encourage those who need to stay away to still keep holy the Lord's Day?
-Arianna
Beach Weddings (12:40)
Hi from Australia! Father Josh, my question is around not getting married in a church. My husband and I grew up Catholic but chose to elope on a beach in Hawaii with a non-denominal Pastor. Is our marriage valid in the Catholic Church? Is this considered a sin?
– Donna
Marian Consecration (16:47)
Hey Fr. Josh, what are your thoughts on consecration to Mary? What does it really mean and why should I consecrate myself to her?
Thanks!
-Anonymous
Resources
---
---
---
Meet Fr. Josh Johnson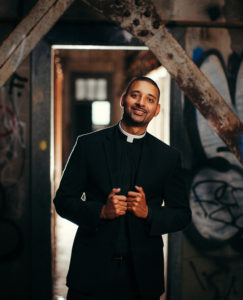 While Fr. Josh was raised Catholic, he didn't like the Church growing up. Then, one day in adoration, he fell in love with Jesus and received the call to become a priest.
Now, Fr. Josh is the Vocations Director of the Diocese of Baton Rouge in Louisiana. He is a presenter in four of Ascension's programs: Altaration, YOU: Life, Love, and the Theology of the Body, The 99, and Connected: Catholic Social Teaching for This Generation, as well as the author of Broken and Blessed: An Invitation to My Generation, Pocket Guide to Adoration, and co-author of Pocket Guide to Reconciliation.