In this episode, Fr. Josh answers questions on how to respond to unhelpful words of condolence and what the parameters are for celebrating during Lent. Fr. Josh also offers advice on how to offer condolence to those who have experienced a miscarriage.
Snippet from the Show
God is inviting us to want Heaven for everyone.
---
Shownotes
Glory Story (3:25)
Celebrating During Lent (14:21)
Hi Fr. Josh!  I have been listening to your podcast for a while now!  I have enjoyed learning about so many new things pertaining to the Catholic Church, especially when it is a practical application.  My question is, I have a birthday during lent, to what extent am I able to celebrate it?  I was previously thinking of throwing a party for my close friends, but then I also feel guilty for celebrating during lent.  Should I also refrain from serving dessert or alcohol since these are common things to give up for lent?  I am hoping that you can help me understand the attitude of the church towards celebrations during lent and potentially offer some suggestions on how to celebrate in a respectful manner.
-Anonymous
How to Respond to "Untrue" Words of Condolence (20:34)
Hi Fr. Josh! My husband and I recently experienced a miscarriage. We haven't shared this with most of the people in our life except a few close friends and family members. I received some words of condolence that really bothered me because I know they aren't true. The words are "God just needed another angel." This sounds real nice, but I know that this is not true. How do I respond to this person? Or do I just let it be?
-Anonymous
"What You Shouldn't Say When a Friend Miscarries…and What You Should Say" from Catholic Link
---
Resources
---
Meet Fr. Josh Johnson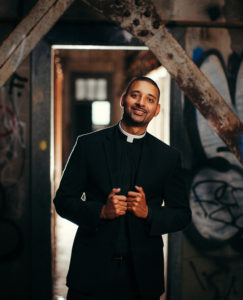 While Fr. Josh was raised Catholic, he didn't like the Church growing up. Then, one day in adoration, he fell in love with Jesus and received the call to become a priest.
Now, Fr. Josh is the Vocations Director of the Diocese of Baton Rouge in Louisiana. He is a presenter in four of Ascension's programs: Altaration, YOU: Life, Love, and the Theology of the Body, The 99, and Connected: Catholic Social Teaching for This Generation, as well as the author of Broken and Blessed: An Invitation to My Generation, Pocket Guide to Adoration, and co-author of Pocket Guide to Reconciliation.