Are you ever confused or hurt when you hear that a priest has left the priesthood? Fr. Josh takes on this issue in today's podcast. He explains some of the more common reasons why a priest might leave the priesthood. Fr. Josh shares the impact this can have on others and offers advice on how to respond in these situations.
Snippet from the Show
Prayer helps to suppress our vices and helps us persevere in our relationship with God. Prayer is essential in sustaining us.
---
Shownotes
Glory Story (1:29)
Listener Question (3:22)
As a priest, how do you deal with a fellow brother leaving the priesthood, whether asking to leave or being asked to leave? Do you ever feel betrayed or angry? In those instances, how do you address it with your parishioners?
-Anonymous
Saint Story: Servant of God Fr. Ragheed Aziz Ganni (19:23)
Fr. Ragheed Aziz Ganni was born in 1972 in Nineveh, Iraq. He grew up in a large, Chaldean Catholic family. He went to school for a degree in Civil Engineering which he completed in 1993. Around this time, he discerned that God was calling him to the priesthood, so he entered seminary.
Eventually, he was sent to Rome for further studies. He stayed at the Irish college in Rome where his big, humorous personality fit in very well. He was well-loved by all that knew him. After completing his theological studies at the Angelicum, he was ordained in 2001 in Rome. He stayed in Rome for two additional years continuing to study but also serving the poor when he could.
In 2003, despite the very real dangers, Fr. Ragheed decided to return home. He was assigned to a parish in Mosul. In the following years, he was in life-threatening danger multiple times and his church was attacked several times. He left Iraq a number of times to visit Rome but always returned. 
In 2007, Fr. Ragheed was killed along with three subdeacons. He was shot for not closing the church and for refusing to renounce the faith.
"The terrorists might think they can kill our bodies or our spirit by frightening us, but, on Sundays, churches are always full. They may try to take our life, but the Eucharist gives it back."
-Fr. Ragheed Aziz Ganni
---
Resources
---
Meet Fr. Josh Johnson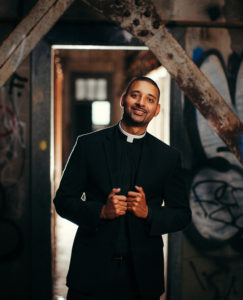 While Fr. Josh was raised Catholic, he didn't like the Church growing up. Then, one day in adoration, he fell in love with Jesus and received the call to become a priest.
Now, Fr. Josh is the Vocations Director of the Diocese of Baton Rouge in Louisiana. He is a presenter in four of Ascension's programs: Altaration, YOU: Life, Love, and the Theology of the Body, The 99, and Connected: Catholic Social Teaching for This Generation, as well as the author of Broken and Blessed: An Invitation to My Generation, Pocket Guide to Adoration, and co-author of Pocket Guide to Reconciliation.