Fr. Josh answers questions on Our Lady of Guadalupe, celebrating Santa Claus from a Catholic perspective, and how to bring Christ into the college culture.
Snippet from the Show


Standing in front of the sun, our Lady of Guadalupe points her children away from worshipping the sun to worshipping the son in her womb, Jesus Christ.
---
Shownotes
Our Lady of Guadalupe
Hi Fr. Josh
I know the Feast Day of our Lady of Guadulpe is coming up. I've heard a lot about our Lady of Guadalupe but I don't know her story too well or why she's so popular. What's the significance behind her apparition and appearance? Also what role do Marian Apparitions have in our Catholic faith?
-Celeste
Celebrating Santa Claus
Hi Father Josh,
First, thank you so much for your podcast. I love that you aren't afraid to give tough answers to tough questions. My question is, what are your thoughts on Santa Claus? I have two children (and one on the way). My oldest is 2 1/2 so this is the first year he would be able to start understanding the concept of Santa. My husband and I both believed in Santa growing up and all of my siblings and friends have told their kids about Santa. However, I'm having some hesitations.
There are a few sins I've been working extra hard on the last few years, one of which is lying. No matter how you spin it or what you call him, telling your kids that Santa (or even Saint Nicholas) is leaving them presents is a lie. Should we avoid Santa entirely? Should we introduce the concept as a "pretend game" to keep the fun without the actual lie?
So far, we haven't explained Santa. We have just talked about Christmas being Jesus' birthday and Advent being a countdown to his birthday. Most people (even my super devout friends) tell me I'm thinking too hard about it. My husband says he's on board either way. I would love if you can give me your opinion. Thank you!
-Courtney
Being Catholic in College
Hi Fr. Josh
I am a college freshman, and I have a really good Catholic community around me at my college, and I want others at my school to expericne that. In college my faith has strengthened, and it has for once become the most important part of my life. Day after day I see other students and classmates living the college life of desiring: alcohol, drugs, and sex(the party life). It saddens me to see that they are filling their brokeness in partying and that they do not know yet that God will completely make their life fulfilling. How can I go about trying to bring these people that are Children of God, but do not know they are yet, to the Catholic Church? Thanks so much! I enjoy listening to the podcast, and you are in my prayers.
-Ryan
Resources
Submit your questions and feedback to Fr.Josh by filling out a form at www.ascensionpress.com/askfatherjosh
Ascension is pleased to offer our new and improved online bible study programs and sacramental preparation programs digitally to help you minister with flexibility. Go to ascensionpress.com to view all our offerings.
---
Meet Fr. Josh Johnson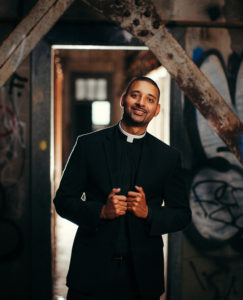 While Fr. Josh was raised Catholic, he didn't like the Church growing up. Then, one day in adoration, he fell in love with Jesus and received the call to become a priest.
Now, Fr. Josh is the Vocations Director of the Diocese of Baton Rouge in Louisiana. He is a presenter in four of Ascension's programs: Altaration, YOU: Life, Love, and the Theology of the Body, The 99, and Connected: Catholic Social Teaching for This Generation, as well as the author of Broken and Blessed: An Invitation to My Generation, Pocket Guide to Adoration, and co-author of Pocket Guide to Reconciliation.