Fr. Josh answers questions about the use of optional prayers in Mass, the purpose of Marian apparitions, ways to encourage others to read Scripture.
Snippet from the Show
Be about what God's about.
---
Shownotes
Glory Story (2:13)
Understanding the Optional Prayers at Mass (6:39)
Why do some churches recite certain prayers like the confiteor prayer or the St.Michael prayer and others do not. Is it up to the priest or the congregation?
-Dee
Why Are There Marian Apparitions? (9:49)
Hi Fr. Josh! I'm wondering if you might be able to talk a little bit about Marian apparitions. I've been hearing about more of them lately and I guess I am a little confused as to why they happen. Are they just random? Does Mary look different every time?
-Caroline
Reading Scripture Is for Everyone (17:20)
Hi Fr. Josh! My parents are really faithful Catholics, but were never really exposed to Scripture and haven't read it much outside of Mass. I've brought up how much I've learned through Bible Studies and how important Scripture is in my spiritual life, but they don't seem interested and have said that they just don't really read the Bible. I have fallen in love with Scripture and think it's important for everyone to read and pray with. How can I help my parents get into Scripture? Do you have some tips?
-Ben
---
Resources
---
Meet Fr. Josh Johnson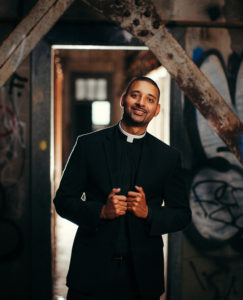 While Fr. Josh was raised Catholic, he didn't like the Church growing up. Then, one day in adoration, he fell in love with Jesus and received the call to become a priest.
Now, Fr. Josh is the Vocations Director of the Diocese of Baton Rouge in Louisiana. He is a presenter in four of Ascension's programs: Altaration, YOU: Life, Love, and the Theology of the Body, The 99, and Connected: Catholic Social Teaching for This Generation, as well as the author of Broken and Blessed: An Invitation to My Generation, Pocket Guide to Adoration, and co-author of Pocket Guide to Reconciliation.