Fr. Josh explains whether Catholics should practice mindfulness meditation, if Jesus had other siblings, and how to experience the joy of the Lord.
Snippet from the Show


"The more we receive the delight of Jesus, the more we begin to delight in ourselves just as we are."
---
Shownotes
Glory Story ( 3:13)
Feedback (5:26)
Mindfulness Meditation (7:33)
---
---
Questions
Hello,
I had a question pertaining to meditation. I was wondering if mindfulness meditation is ok for Catholics to practice. I did it a couple of times in the past and it was very calming and beneficial. But I know it has origins outside Catholicism. If mindfulness meditation is wrong or not fruitful are there any alternatives that are.
Best regards,
Sean
Did Jesus Have Siblings? (15:00)
Hi Father Josh!
Thanks for all your work with this podcast. My question concerns the references to Jesus' "siblings" in scripture. In Mark 6:3, Matthew 13:55-56, and Galatians 1:19, there are mentions of Jesus' brothers and sisters, with specific
names given. How does the Church reconcile this with the virginity of Mary and Joseph? More broadly, how did the Church come to the conclusion that Mary remained a virgin (since this is not explicitly stated in scripture) with such specific references to brothers and sisters of Jesus?
-Anonymous
Thanks!
Living with Joy (2:13)
Thank you Father Josh for your weekly podcast!!!! Not sure how to ask this correctly, but I am a devoted Catholic. Pray, study, fasting. I love the Lord and really feel it….but I get very disappointed in myself that I do not reflect the Lord's light well or have that "joy". I definitely let Earthly concerns get in the way… maybe this is the weeds parable…or maybe a lack of trust? Would appreciated any advice.
– Thanks Jim
SPONSOR
Ascension is proud to partner with authentically Catholic institutions and organizations committed to spreading the Gospel. Learn more about the sponsor of this episode, Ave Maria University.
---
---
Resources
---
Meet Fr. Josh Johnson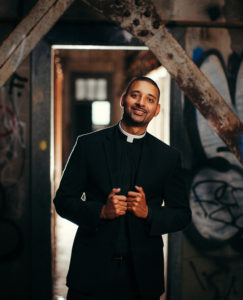 While Fr. Josh was raised Catholic, he didn't like the Church growing up. Then, one day in adoration, he fell in love with Jesus and received the call to become a priest.
Now, Fr. Josh is the Vocations Director of the Diocese of Baton Rouge in Louisiana. He is a presenter in four of Ascension's programs: Altaration, YOU: Life, Love, and the Theology of the Body, The 99, and Connected: Catholic Social Teaching for This Generation, as well as the author of Broken and Blessed: An Invitation to My Generation, Pocket Guide to Adoration, and co-author of Pocket Guide to Reconciliation.