Fr. Josh answers questions regarding the use of medical marijuana, why an individual person does not possess all the spiritual gifts, and finally the reward of holiness and the sacrifices we make in our relationship with Jesus Christ.
Snippet from the Show
"We avoid sin because we've come to know the one who our hearts were created for."

---
Shownotes
Glory Story (2:22)
Chosen Discernment Retreat, June 3rd-5th at St. Joseph Abbey

Questions


Spiritual Gifts (7:35)
Dear Fr. Josh, as a very active member of the Catholic Church, it is so hard to watch people fall away from the Church and equally hard to hear mistruths spread about our beautiful faith. In the recent months, I have found myself surrounded by Catholics who have left the Church and now speak of what they perceive as the lack of the Holy Spirit in the pews. I feel like I am someone who has been filled with the gifts of the Spirit and I am in love with all of the Church's teachings. Can you help me to share what the Church teaches about the gifts of the Holy Spirit? Can I ask for and receive all the gifts of the Holy Spirit? If yes, that's awesome. If no, why not?
-Becky

Medical Marijuana (15:23)
I have had 3 cervical spine fusions over 5 years and due to the amount of medication I've been taking I have begun to do a small amount of damage to my liver. 2 of my specialists have recommended medicinal marijuana but I feel so guilty doing it. My family is supportive but I feel ashamed. I have taken Percocet but do not like the side effect and again it's another pill that can lead to damage to my liver. I've also begun to drink beer and wine to alleviate the pain. My question is should I use my medicinal marijuana for pain or is this a sin? I feel as though I'm running out of options.
-Anonymous  

The Reward of Holiness (24:08)
This question is related to the Parable of the Prodigal Son as well as the Vineyard workers. I am well aware that all of us are sinners and no one is perfect. But for Catholics such as myself who try to avoid a sinful lifestyle all their life in comparison to others who do not, how do I try to reconcile my feelings of bitterness and giving up when it can seem to be so unfair? Sometimes there are times when I wonder that I may have missed out on the "fun" experiences of a sinful lifestyle. The answer that's been given to me is the analogy of the thimble and cup and the amount of God's love you are able to receive in Heaven. Yes, you will be able to enjoy a greater amount of God's Love with the cup. But with a thimble, though it's capacity to receive Love is small, it will still be full regardless. I guess from a human perspective of understanding, the reward is not worth the effort. Thanks.
-Anonymous


Resources
---
Meet Fr. Josh Johnson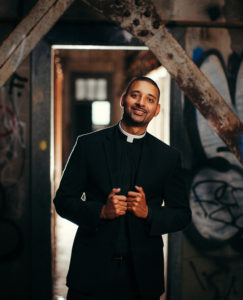 While Fr. Josh was raised Catholic, he didn't like the Church growing up. Then, one day in adoration, he fell in love with Jesus and received the call to become a priest.
Now, Fr. Josh is the Vocations Director of the Diocese of Baton Rouge in Louisiana. He is a presenter in four of Ascension's programs: Altaration, YOU: Life, Love, and the Theology of the Body, The 99, and Connected: Catholic Social Teaching for This Generation, as well as the author of Broken and Blessed: An Invitation to My Generation, Pocket Guide to Adoration, and co-author of Pocket Guide to Reconciliation.