Colin's family celebrated the 607th birthday of St. Joan of Arc — New Orleans style.

To kick off the carnival season, locals celebrate the birthday of this great saint with a big parade, songs, good food, and fellowship. The parade even features quotes from Joan of Arc, including this one:

"Hold up the cross higher so I can see it through the flames."

Catholics and non-Catholics alike participated in this festive event. It was an amazing opportunity to share the richness of the Catholic faith with others.

What are some more ways we can be creative and bring Catholicism out into the streets? Comment below!

Snippet from the Show
"Catholicism does not belong just behind the closed doors of a church … thank you [Joan of Arc] for bringing it out into the streets and reminding us how to be bold"
---
Meet Your Host, Colin MacIver: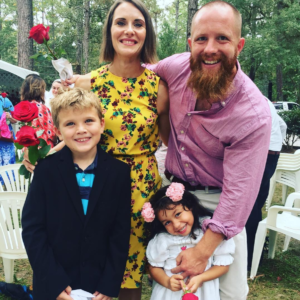 Colin is an enthusiastic transplant to vibrant Louisiana, where he lives with his beautiful wife Aimee and two energetic children, Leo and Zélie. His juggling act involves being a husband, a dad, a teacher, a youth minister, a musician and a national Ascension content creator and trainer.
In his spare time, he eats too many crawfish, savors king cake, plays one-on-one kickball with his son, and tries, for the life of him, to properly load the dishwasher.
Check out Colin's latest work with Ascension: Power and Grace: A Guide to the Catholic Sacraments and Quick Catholic Lessons with Fr. Mike.