Have you ever heard someone say that "social justice" is not Christian? Today, Fr. Josh addresses the topic of "social justice" and whether or not it is Christian. He also responds to the use of social media and the discernment one should use when sharing thoughts and ideas on those platforms.
Snippet from the Show
Prior to speaking publicly on important matters, it is essential that we form our hearts and minds.
---
Shownotes
Glory Story (1:50)


Listener Question (5:49)
Hi Fr. Josh, I recently saw some tweets regarding "social justice" and Christianity. There seems to be disagreement on whether "social justice" is Christian or not. So, I want to know whether "social justice" is Christian or not.
Saint Story: Venerable Alphonse Gallegos (21:50)
Alphonse Gallegos was born in New Mexico but moved with his family to California when he was a young adult. He endured a number of physical ailments throughout his life including poor vision and myopia.
Alphonse was a part of the Order of Augustinian Recollects and was ordained a priest in 1958. For the first years of his priesthood, he worked with the candidates within his religious order and also furthered his own studies. Eventually, he served as a parish priest. It was in this role that he dedicated so much of himself. He especially focused on the Hispanic community.
Alphonse was eventually made auxiliary bishop in Sacramento in 1981. In 1991, he passed away after a traffic accident.
It was not longer after Alphonse's death that people began to speak about his holiness. He was named a venerable in 2016.
---
Resources
---
Meet Fr. Josh Johnson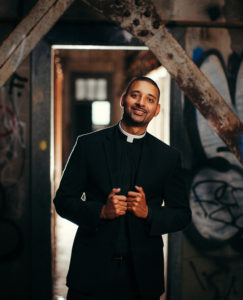 While Fr. Josh was raised Catholic, he didn't like the Church growing up. Then, one day in adoration, he fell in love with Jesus and received the call to become a priest.
Now, Fr. Josh is the Vocations Director of the Diocese of Baton Rouge in Louisiana. He is a presenter in four of Ascension's programs: Altaration, YOU: Life, Love, and the Theology of the Body, The 99, and Connected: Catholic Social Teaching for This Generation, as well as the author of Broken and Blessed: An Invitation to My Generation, Pocket Guide to Adoration, and co-author of Pocket Guide to Reconciliation.