Fr. Josh answers questions about interfaith dating, the meaning behind all the different kinds of postures during Mass, and the purpose behind praying a challenging prayer like the litany of humility.
---
---
Snippet from the Show


"As Catholics, we kneel because it is a Biblical posture of respect and adoration before our Lord, the King of Kings."
---
Shownotes
---
---
Ascension is proud to partner with authentically Catholic institutions and organizations committed to spreading the Gospel. Learn more about the sponsor of this episode, Ave Maria University.
---
---
Feedback
Hi Fr. Josh,
I'm so grateful that God led me to find your podcast. I so enjoyed your appearance on the Abiding Together podcast as well. You are a joy! Can you recommend a book/resources on the Holy Spirit? I want to learn more from a worthy source. You are a great blessing! Thank you!- Amy
---
---
Questions
Interfaith Relationships

What is your advice on interfaith relationships/interfaith marriage. Can it work? I am currently a graduate student and find myself attracted to men outside of the Catholic faith. Even though I attend mass on a regular basis and I am part of a bible study at my campus, I find myself being attracted to men of different religions (including agnostics). My Catholic faith is very important to me and I want my future children to belong to the Catholic faith. Is it wrong to pursue relationships with men outside of the Catholic faith? By the way, I enjoy listening to your podcasts every week. Thank you and God bless you. -Monica

Why do Catholics Kneel

Stand up, sit down, kneel? Stand up, sit down, kneel! Hello Fr. Josh! Within the last week, I have had two different friends (who have left the Catholic faith and are considering coming back) ask me to explain why we Catholics stand up, sit down, kneel. As a Cradle Catholic I admitted that I wasn't sure. I told my friends that I listen to this great podcast called Ask Fr Josh and I thought this would be a great question for you to explain. I have been a long time listener as well as my husband and we have had great conversations about things we didn't know or understand within our faith. Thank you so much for the time that you put into this podcast and thank you to the unseen team that helps makes this podcast possible.

Many blessings to all y'all!!!
ps… with your spontaneous song singing, I have a feeling I know which one you will associate with my name -Dottie
---
---
The Purpose of the Litany of Humility
Hi Fr. Josh!

I love your show and thank you for helping me grow closer to our Lord. I have a question about a prayer you like: the Litany of Humility! I have been praying it in different seasons of my life, and I always have difficulty with the line: "that others may be preferred to me in everything." When I applied for my dream job, I had a hard time praying that line because I felt like God has given me the gifts to earn that role. I felt like my prayers- that I would get chosen- were contradicting with the Litany of Humility. I understand humility is to think of ourselves less; however, doesn't the Lord want the best for me if I've discerned properly? I am just curious how I can pray the Litany of Humility while having self compassion, or without feeling like it's selfish to want good things for myself. Hope this makes sense and God bless! PS: can you please sing my name? -Mikaela
Resources
---
---
---
Meet Fr. Josh Johnson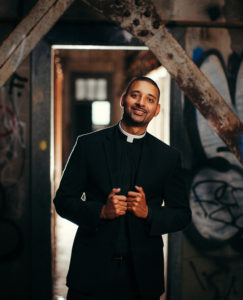 While Fr. Josh was raised Catholic, he didn't like the Church growing up. Then, one day in adoration, he fell in love with Jesus and received the call to become a priest.
Now, Fr. Josh is the Vocations Director of the Diocese of Baton Rouge in Louisiana. He is a presenter in four of Ascension's programs: Altaration, YOU: Life, Love, and the Theology of the Body, The 99, and Connected: Catholic Social Teaching for This Generation, as well as the author of Broken and Blessed: An Invitation to My Generation, Pocket Guide to Adoration, and co-author of Pocket Guide to Reconciliation.