What is the difference between individualism and individuality? We are not called to live for ourselves alone, but aren't we also told to cultivate and use our individual talents? Fr. Josh takes on these questions in today's episode.
Snippet from the Show
How each of us is called to be a saint will look different because each of us is different.
---
Shownotes
Glory Story (1:20)
This Episode's Question (4:44)
A Catholic speaker I listen to often decries the "culture of self-invention"" which (I think) means the current obsession with individuality.
But what's the difference between this and the parable of the talents, e.g. using the individual skills and attributes Jesus has given us?
-Declan
Saint Story: Blessed Rutilio Grande (13:25)
Rutilio Grande was born in 1928 in El Salvador. He was the youngest of seven children and the family was quite poor. When he was still a young child, his parents got divorced. This led to Rutilio being raised by his grandmother who was a devout Catholic.
Rutilio ended up attending high school seminary after which he attended minor seminary. Following this, Rutilio entered the novitiate with the Jesuits. In 1959, he was ordained a priest.
As a priest, Fr. Rutilio taught seminarians for a number of years. He also served in a parish off and on.
While he was serving in the parish from about 1967-1977, Fr. Rutilio spoke out against the injustices being done by the government. He taught and trained the people on how to respond and demand better for themselves. He was such a prominent voice that he was seen as a threat. This eventually led to his murder.
In 1977, Fr. Rutilio was assassinated along with two companions. In January of 2022, Fr. Rutilio and his two companions were beatified.
---
Resources
Meet Fr. Josh Johnson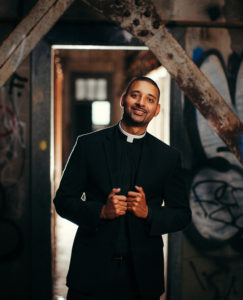 While Fr. Josh was raised Catholic, he didn't like the Church growing up. Then, one day in adoration, he fell in love with Jesus and received the call to become a priest.
Now, Fr. Josh is the Vocations Director of the Diocese of Baton Rouge in Louisiana. He is a presenter in four of Ascension's programs: Altaration, YOU: Life, Love, and the Theology of the Body, The 99, and Connected: Catholic Social Teaching for This Generation, as well as the author of Broken and Blessed: An Invitation to My Generation, Pocket Guide to Adoration, and co-author of Pocket Guide to Reconciliation.