It is good for spouses to pray together, but how do you do it? What if one spouse is not as interested in praying together as the other? Fr. Josh shares the importance of praying together and also gives some advice and ideas on how to do it.
Snippet from the Show
Creating a habit of prayer will foster and facilitate a rule of life that will help you mature in holiness.
---
Shownotes
Glory Story (1:36)
Question: The Prayer Life of Spouses (6:51)
Hi Father Josh! Thank you for your podcast! It's been such a blessing to me. We often hear that spouses that pray together are better off and have a stronger relationship. How would you encourage a couple to live this out if one spouse isn't interested in praying and is even more uncomfortable sharing about their spiritual life?
-Anonymous
Saint Story: St. Nicholas (14:54)
St. Nicholas was born in the Asia Minor and was the only child of his parents. He was raised in a very devout home and was a student of the faith from an early age. Sadly, his parents passed away while he was still young. He was left a sizable inheritance and was brought under the care of his uncle the Bishop of Patara.
Nicholas used his inheritance for good purposes such as secretly providing the dowry for three young women whose father was going to give them over to prostitution. This is only one example of the charity that Nicholas showed throughout his life.
Nicholas was eventually made a bishop. He was present at the Council of Nicea and spoke strongly against Arianism. He also spoke very strongly against paganism throughout his time as a bishop.
St. Nicholas is an incredible example of charity, faithfulness and fortitude. St. Nicholas, pray for us!
---
Resources
---
Meet Fr. Josh Johnson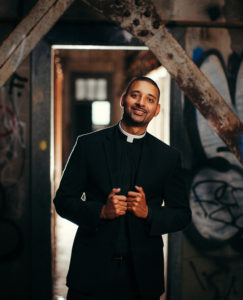 While Fr. Josh was raised Catholic, he didn't like the Church growing up. Then, one day in adoration, he fell in love with Jesus and received the call to become a priest.
Now, Fr. Josh is the Vocations Director of the Diocese of Baton Rouge in Louisiana. He is a presenter in four of Ascension's programs: Altaration, YOU: Life, Love, and the Theology of the Body, The 99, and Connected: Catholic Social Teaching for This Generation, as well as the author of Broken and Blessed: An Invitation to My Generation, Pocket Guide to Adoration, and co-author of Pocket Guide to Reconciliation.