Are there particular ways we should pray during the Lenten season? Lent is a great season to make new efforts in growing our relationship with God. Today, Fr. Josh shares ideas for some of the ways we could pray during the Lenten season.
Snippet from the Show
During the Lenten season, it is really beautiful to accompany Jesus in his suffering, in his Passion.
---
Shownotes
Glory Story (1:50)


Listener Question (4:24)
Fr. Josh, love the podcast. Question: Is there any way I should be praying in the Lenten season to grow my relationship with God?
Saint Story: St. Alphonsus Liguori (13:18)
St. Alphonsus Liguori was born in 1696 in Italy. By the age of sixteen, he had earned his doctorate in both canon and civil law by acclamation. However, he left the practice of law in order to become a priest.
St. Alphonsus Liguori is the founder of the Redemptorist congregation. This congregation brought priests and brothers together to live in community and strive to be more like Christ. While most clergy were more formal at the time, St. Alphonsus strove to be pastoral both in how he preached and administered the sacrament of reconciliation.
Although he was very resistant, St. Alphonsus was made a bishop at the age of 66. Once he was a bishop, he did all he could to bring good change to his diocese. At the age of 71, St. Alphonsus began to suffer from rheumatic pains. These pains caused a bend in his neck which resulted in a wound on his chest where his chin pressed on it. In the last eighteen months of his life, St. Alphonsus suffered almost a continuous dark night of the soul. Occasionally, he experienced relief from it with great ecstasy. He died in 1787.
---
Resources
Meet Fr. Josh Johnson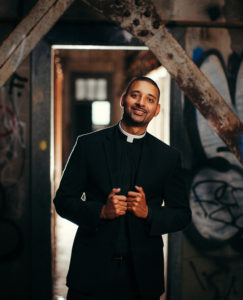 While Fr. Josh was raised Catholic, he didn't like the Church growing up. Then, one day in adoration, he fell in love with Jesus and received the call to become a priest.
Now, Fr. Josh is the Vocations Director of the Diocese of Baton Rouge in Louisiana. He is a presenter in four of Ascension's programs: Altaration, YOU: Life, Love, and the Theology of the Body, The 99, and Connected: Catholic Social Teaching for This Generation, as well as the author of Broken and Blessed: An Invitation to My Generation, Pocket Guide to Adoration, and co-author of Pocket Guide to Reconciliation.