Friendship is incredibly important, but how do you make good friends and maintain those friendships? Fr. Josh Johnson is joined by Sr. Josephine Garrett to discuss the importance of deep friendships and how we can find them. They share their thoughts and what to avoid in friendships and what to value.
Snippet from the Show
In a virtuous friendship, you desire to accompany one another towards the ultimate good which is Heaven.
---
Shownotes
Glory Story (4:16)
Listener Question (7:28)
How do you make good friends?
Saint Story: St. John Paul II and St. Mother Teresa (27:23)
Saint John Paul II was born in May 1920 in Poland. He lost all of his family quite early in life, but was known well for how he loved the people around him. St. John Paul II became pope in 1978. He was an incredible writer, leader, and a man of great prayer. He died in 2005.
Saint Mother Teresa was born in 1910 in Macedonia. In 1928, she joined the Sisters of Loreto and was sent to Calcutta, India to teach young girls. For twenty years, she served in this way. In 1946, Mother Teresa received the call to serve the poor. She eventually founded the Missionaries of Charity. Mother Teresa died in 1997.
---
Resources
---
Meet Fr. Josh Johnson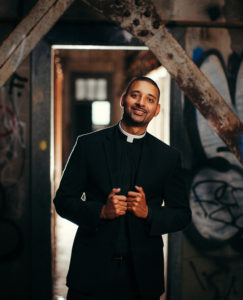 While Fr. Josh was raised Catholic, he didn't like the Church growing up. Then, one day in adoration, he fell in love with Jesus and received the call to become a priest.
Now, Fr. Josh is the Vocations Director of the Diocese of Baton Rouge in Louisiana. He is a presenter in four of Ascension's programs: Altaration, YOU: Life, Love, and the Theology of the Body, The 99, and Connected: Catholic Social Teaching for This Generation, as well as the author of Broken and Blessed: An Invitation to My Generation, Pocket Guide to Adoration, and co-author of Pocket Guide to Reconciliation.