Welcome back to this new season of Ask Fr. Josh! In this episode, Fr. Josh responds to a question on how the saints are able to hear us when we pray to them. He also shares about a saint who we can look to to help us break boundaries and serve the Lord beyond our own capacity.
Snippet from the Show
We were created for Jesus and only he will satisfy us.
---
Shownotes
Listener Question
Hello Fr Josh! Love your podcast and have a question that I don't know who to ask. Maybe you can help. I believe Catholic theology says that we will get our bodies back in heaven. This really made me think when I heard a new-to-me Protestant argument against praying to saints: "How can the saints possibly hear us? Does God make them telepathic?" I thought that was a good point and wondered if someone has already addressed this seeming contradiction?
-Heather
Saint Story: St. Teresa of Calcutta
This week, Fr. Josh shares about St. Teresa of Calcutta or as many know her, Mother Teresa. St. Teresa was originally born in 1910 in Skopje and she was named Agnes Gonxha Bojaxhiu. At the age of eight, her father passed away. This left her family with many financial struggles.
St. Teresa desired to do missionary work from a young age and left home at the age of eighteen to do so. She joined the Institute of the Blessed Virgin Mary, also known as the Sisters of Loreto. It was then that her name changed from Agnes to Teresa. Shortly after joining the community, she left for Calcutta, India and taught at a school for girls.
After teaching for twenty years, St. Teresa received her "call within a call." She knew that God was asking her to serve the poorest of the poor. It took a couple of years before she was able to begin this work. With just a brief medical training, St. Teresa began to minister to the sick, the suffering, and the dying. Eventually, the congregation of the Missionaries of Charity was founded. St. Teresa was able to send her sisters to other parts of India and eventually to other parts of the world.
St. Teresa did so much incredible work that it is impossible to comprehend. Not only did she serve the poor, but she did so while experiencing a "dark night of the soul." She felt little consolation in her relationship with God. She felt separated from him. However, her love for God only grew. St. Teresa pursued him always. She participated in Christ's suffering. She experienced his thirst for souls.
St. Teresa of Calcutta died on September 5, 1997. She was canonized by Pope Francis on September 4, 2016.
---
Resources
---
Meet Fr. Josh Johnson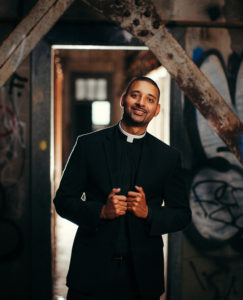 While Fr. Josh was raised Catholic, he didn't like the Church growing up. Then, one day in adoration, he fell in love with Jesus and received the call to become a priest.
Now, Fr. Josh is the Vocations Director of the Diocese of Baton Rouge in Louisiana. He is a presenter in four of Ascension's programs: Altaration, YOU: Life, Love, and the Theology of the Body, The 99, and Connected: Catholic Social Teaching for This Generation, as well as the author of Broken and Blessed: An Invitation to My Generation, Pocket Guide to Adoration, and co-author of Pocket Guide to Reconciliation.