Violence, war, and injustice are just some of the evils that are present in our world today. If you watch the news or scroll on social media, it can seem like there is nothing but bad in the world. So, how can you be happy in such a place? Is it possible or even right to be happy? Fr. Josh addresses this question and offers advice on how to find happiness even in the storms of life.
Snippet from the Show
When we focus more on the storm than on Jesus, we will be overcome with anxiety.
---
Shownotes
Glory Story (2:06)
Listener Question (4:56)
Fr. Josh, there is so much bad in our world: killings, war, injustices, the list goes on. How can I be happy in a world like this?
Saint Story: Venerable Maria Luisa Josefa of the Most Blessed Sacrament (17:15)
Maria Luisa Josefa was born in Mexico in 1866. At a young age, she felt the call to religious life. However, at the age of fifteen, she was promised to a man named Pascual Rojas. Pascual was fifteen years her senior. Once they were married, they had a happy and love-filled marriage. They were unable to conceive children, so they focused their love and care on the poor.
After fourteen years of marriage, Pascual died. Before his death, he told Maria Luisa that he believed she would enter religious life after his death. Eight years after his death, she entered the Carmelites as a cloistered nun. However, the Archbishop requested that she return to work serving the poor which she did. For the remainder of her life, Maria Luisa served the poor in healthcare, education, and many other ways. She died in 1937.
---
Resources
---
Meet Fr. Josh Johnson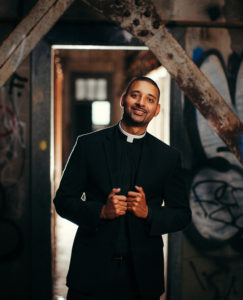 While Fr. Josh was raised Catholic, he didn't like the Church growing up. Then, one day in adoration, he fell in love with Jesus and received the call to become a priest.
Now, Fr. Josh is the Vocations Director of the Diocese of Baton Rouge in Louisiana. He is a presenter in four of Ascension's programs: Altaration, YOU: Life, Love, and the Theology of the Body, The 99, and Connected: Catholic Social Teaching for This Generation, as well as the author of Broken and Blessed: An Invitation to My Generation, Pocket Guide to Adoration, and co-author of Pocket Guide to Reconciliation.