"It wasn't what I thought it would be." In this special Thanksgiving episode Father Josh assures those who may be "poor in spirit" during this holiday season, inviting us to be so rooted in the love of God that God's love is enough for us. God is all we need!
Snippet from the Show
No matter what happens at Thanksgiving or what doesn't happen at Thanksgiving, we are not disturbed and we are not moved, because God is sufficient.
---
Resources
---
Meet Fr. Josh Johnson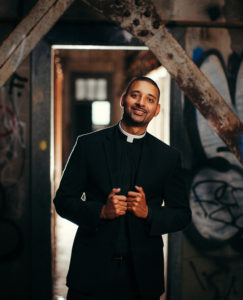 While Fr. Josh was raised Catholic, he didn't like the Church growing up. Then, one day in adoration, he fell in love with Jesus and received the call to become a priest.
Now, Fr. Josh is the Vocations Director of the Diocese of Baton Rouge in Louisiana. He is a presenter in four of Ascension's programs: Altaration, YOU: Life, Love, and the Theology of the Body, The 99, and Connected: Catholic Social Teaching for This Generation, as well as the author of Broken and Blessed: An Invitation to My Generation, Pocket Guide to Adoration, and co-author of Pocket Guide to Reconciliation.