Fr. Josh answers questions about what it's like to hear confessions as a priest, how to talk about political leaders, and how to practically fight thoughts of temptation. This episode contains adult themes that are not suitable for children – parental discretion is advised.
Snippet from the Show


"If we immerse ourselves in holy artwork, movies, music, and Scripture, our imagination starts to become a sacred space that the devil can't play with."
---
Shownotes
Hearing Confessions
Can you give us the priest's point of view of reconciliation? I know how it feels to be in the confessor's chair, but I always wanted to know how it feels to be in the priest's chair listening to the sins. How do you prepare for confession? How do you feel during and after confession? Has a confession ever left you exhausted? Have you ever felt Jesus' presence when you dissolve sins? – Joanna
Political Leadership
With the inauguration of President Biden and VP Harris, I've noticed a lot of Catholics are putting them down and being very critical on social media. I totally get that they are not pro-life which is a struggle for me. Am I in the wrong for accepting the presidency and accepting democracy? I'm excited we have made history with a woman VP. I'm really struggling with my fellow Catholics or am I wrong. – Liz
Fighting Thoughts of Temptation
How do we combat unwanted thoughts that pop into our heads? Personally, there are two types of thoughts that haunt me (perverted and self-loathing), and the second tends to follow on the heels of the first. I've been trying to cry out to Jesus, Mary, and the saints when it happens, but it still seems to happen all the time. What can I do? – Anonymous
Resources
---
Meet Fr. Josh Johnson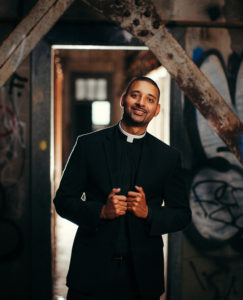 While Fr. Josh was raised Catholic, he didn't like the Church growing up. Then, one day in adoration, he fell in love with Jesus and received the call to become a priest.
Now, Fr. Josh is the Vocations Director of the Diocese of Baton Rouge in Louisiana. He is a presenter in four of Ascension's programs: Altaration, YOU: Life, Love, and the Theology of the Body, The 99, and Connected: Catholic Social Teaching for This Generation, as well as the author of Broken and Blessed: An Invitation to My Generation, Pocket Guide to Adoration, and co-author of Pocket Guide to Reconciliation.