Fr. Josh answers questions on spiritually growing in a season of singleness, responding to atheism, and overcoming fear.
Snippet from the Show


With the rise of atheism, let us look at the witness of individuals like the missionaries of charity. Their passionate love for Jesus Christ and selfless service of the poor undoubtedly point to something bigger than themselves.
---
Shownotes
Glory Story (3:35)
Growing in the Season of Singleness (5:16)
Hi Fr. Josh! Thank you for all that you do, my mom and I love this podcast and your singing!
For context on my question, I'm a college freshman and I've discerned that it's not a good time for me to date or go out with anyone at this point in time for a couple reasons such as a recent break up, starting college as a full-time student, and all the uncertainty with coronavirus. Most importantly, I want to enjoy my life cultivating my relationship with Jesus first and foremost, but whenever I start to feel like doing so is possible, I begin to fall into the doubt of feeling like I'm unloveable or like God is holding out on a good relationship for me. I have come to understand how dangerous this thinking is, and how I've let a relationship become an idol in my life. Recognizing this, it's caused me to wonder: what are some concrete ways to develop my relationship with Jesus and enjoy the season of singleness? I know that this part of my life is here for a reason, and I'm tired of wasting it by worrying about the future. Thank you Father Josh, I appreciate you and am keeping you in my prayers!
-Daniella
Responding to Atheism (10:42 )
With the book "A Manual for Creating an Atheist" becoming popular, what responses can we give if someone approaches us and attempts to convince us to be an atheist?
– Dave
Overcoming Fear ( 15:16)
Hi Father Josh! Thank you for the prayer, time, and effort you put into your podcasts! Several months ago I asked you a question about anxiety and you answered it on your podcast. You referenced several saints who suffered from anxiety, which has been a great comfort to me! It's helpful to know that the saints had the same problems and difficulties as many of us experience!
A question I have for you today is: How can we as Catholics help others to have hope during this time of fear and uncertainty? I know several good Catholics who are very fearful of COVID-19. How can we help to spread hope and not fear?
Thanks, Father Josh! May Our Blessed Mother continue to keep you close to Her Immaculate Heart!
-Bernadette Marie
Resources
---
Meet Fr. Josh Johnson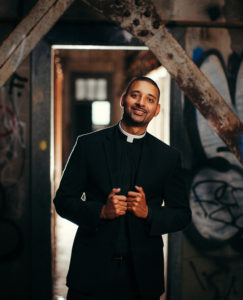 While Fr. Josh was raised Catholic, he didn't like the Church growing up. Then, one day in adoration, he fell in love with Jesus and received the call to become a priest.
Now, Fr. Josh is the Vocations Director of the Diocese of Baton Rouge in Louisiana. He is a presenter in four of Ascension's programs: Altaration, YOU: Life, Love, and the Theology of the Body, The 99, and Connected: Catholic Social Teaching for This Generation, as well as the author of Broken and Blessed: An Invitation to My Generation, Pocket Guide to Adoration, and co-author of Pocket Guide to Reconciliation.