Today we begin our 5 part series on the women Doctors of the Church by first exploring the life of St. Catherine of Siena. St. Catherine was a preacher, influencer, writer, miracle worker, and mystic. In this episode, we chat about Catherine's example of intimacy with God, her fiery heart and voice of conviction, how her hidden life fueled her passion for the Church and restoration, and how we can follow her example in specific ways.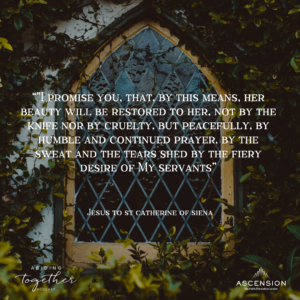 One Thing We Love This Week:
Michelle's One Thing – Brother Isaiah's new song

and check out his album Poco a Poco

Michelle's other one thing – Rosary bracelet
Heather's One Thing – The St. Francis of Assisi Movie "A Sign of Contradiction" by Fr. Dave Pivonka and 4pm Media

Sr. Miriam's One Thing – The Divine Mercy Shrine in Poland
Discussion Questions:
1. What does restored femininity look like in your life?
2. Where can you see God in your childhood? Where do you need to ask Him to reveal Himself?
3. What do you love? What burns your heart? Where is Christ calling you to true love that radiates from within?
Journal Questions:
1. How is God inviting you to bring your feminine genius to your world?
2. What suffering in your life is God asking you to unite with His, that He wants to restore and heal?
3.How has the enemy come into my life to seek, kill, and destroy things that God wants to use to bring life and glory to the world?
4.What areas in your hidden life within, need to experience mercy and transformation so that you can be a witness of restoration to the Church?
Quote to Ponder:
"I promise you, that, by this means, her beauty will be restored to her, not by the knife nor by cruelty, but peacefully, by humble and continued prayer, by the sweat and the tears shed by the fiery desire of My servants" – Jesus to St. Catherine of Siena
Scripture for the week – Ezekiel 37:1-7
The hand of the Lord was on me, and he brought me out by the Spirit of the Lord and set me in the middle of a valley; it was full of bones. He led me back and forth among them, and I saw a great many bones on the floor of the valley, bones that were very dry. He asked me, "Son of man, can these bones live?" I said, "Sovereign Lord, you alone know."Then he said to me, "Prophesy to these bones and say to them, 'Dry bones, hear the word of the Lord! This is what the Sovereign Lord says to these bones: I will make breath enter you, and you will come to life. I will attach tendons to you and make flesh come upon you and cover you with skin; I will put breath in you, and you will come to life. Then you will know that I am the Lord.'" So I prophesied as I was commanded. And as I was prophesying, there was a noise, a rattling sound, and the bones came together, bone to bone.
Here is the Doctors Journal Digital Download
---
Meet Your Hosts
Abiding Together is a weekly podcast hosted by Michelle Benzinger, Sr. Miriam James Heidland, and Heather Khym.
If you would like to contact the ladies of Abiding Together, email: abidingtogether@ascensionpress.com.