Do you have a Rosary that is broken or a Bible that is worn out? Fr. Josh walks us through how to dispose of sacramentals that we no longer have need of or are no longer functional. He also introduces us to St. Vitalis of Gaza, a hermetic monk who teaches us always to assume the best in the intentions of others.
Snippet from the Show
The way we treat a sacramental is effectively the same way we treat people. Every member of the Body of Christ is important, and sacramentals are important as well.

---
Shownotes
Glory Story (01:10) 

Disposing of Sacramentals (04:10) 
Thank you so much for your show! I just finished reading your book with Father Mike Schmitz, The Pocket Guide to the Sacrament of Reconciliation, after feeling called to go back to Confession. Being unsure and afraid, the book helped me understand so much about the sacrament and I was able to go to confession and experience God's mercy.
My question is: my favorite Rosary broke. I don't want to get rid of it because my Nana gave it to me. Is it okay to keep using it? Or is there a proper way to dispose of it? Thank you and God bless!
-Kara  
Saint Story: St. Vitalis of Gaza (11:20)
St. Vitalis of Gaza was a hermetical monk who lived in a community where prostitution was very prevalent. Many women were being abused in the community, and they felt they had no way out other than living lives as prostitutes. As a monk within the community St. Vitalis would pray and intercede for them, but he felt the Lord was calling him out of himself, to be more "hands on" with the community. He would visit brothels and ask women to spend the night with him but, rather than using them, he prayed with them and offered them the love of Christ. Some people in his community did not approve of this, assuming the worst of his actions, and he was actually killed by a member of his community in 625 AD.
---
Resources
---
Meet Fr. Josh Johnson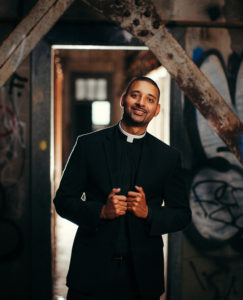 While Fr. Josh was raised Catholic, he didn't like the Church growing up. Then, one day in adoration, he fell in love with Jesus and received the call to become a priest.
Now, Fr. Josh is the Vocations Director of the Diocese of Baton Rouge in Louisiana. He is a presenter in four of Ascension's programs: Altaration, YOU: Life, Love, and the Theology of the Body, The 99, and Connected: Catholic Social Teaching for This Generation, as well as the author of Broken and Blessed: An Invitation to My Generation, Pocket Guide to Adoration, and co-author of Pocket Guide to Reconciliation.