Fr. Josh answers questions about the Church's teaching on cremation and ashes, what the difference between crosses and crucifixes is, and whether the sins we forget during confession are forgiven.
Snippet from the Show
We preach Jesus crucified, because it's Jesus' body on the Cross that gives the Cross its meaning and power, otherwise it's just an instrument of death.
---
Shownotes
Questions
Cremation

My aunt always says that when she dies she would like her ashes to be turned into a tree or put to sea to become a reef (something she read about), but my mom is always telling her her ashes have to be buried. Why is this the case? What does the bible and/or the catechism have to say on the matter?

-Frankie


Crosses versus Crucifixes

Hi Fr. Josh,

I've been into Catholic and Protestant churches/homes and noticed that most Protestants have Crosses without Jesus crucified- just plain Crosses. In Catholic places, I always see Crosses with Jesus crucified. Is there a difference between a plain Cross and a crucified Cross?

Thanks,
Christopher


Forgetting Sins During Confession

Hey Father Josh,
I am a new Catholic convert at age 34 and made my first confession. I forgot my list, and I completely froze and choked during my confession. The silence and inability to speak scared me because there was a line waiting, and I heard people get mad if you take too long. I managed to say 3 things and can't honestly remember what they were. The priest absolved me, but should I bring my list next time, or were my sins I didn't say absolved? I know I am likely to struggle with scrupulosity, so I am really trying to not let the devil keep bringing past sins to light. Any advice?

-Anonymous
---
---
Resources
---
---
---
---
---
Meet Fr. Josh Johnson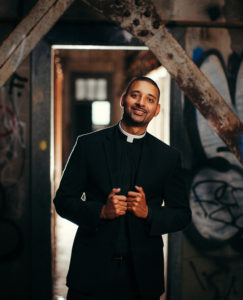 While Fr. Josh was raised Catholic, he didn't like the Church growing up. Then, one day in adoration, he fell in love with Jesus and received the call to become a priest.
Now, Fr. Josh is the Vocations Director of the Diocese of Baton Rouge in Louisiana. He is a presenter in four of Ascension's programs: Altaration, YOU: Life, Love, and the Theology of the Body, The 99, and Connected: Catholic Social Teaching for This Generation, as well as the author of Broken and Blessed: An Invitation to My Generation, Pocket Guide to Adoration, and co-author of Pocket Guide to Reconciliation.