One of the best gifts you can give at Christmas is a gift of self.
Colin was touched by this kind of gift when he encountered a man who had little to give, but did so anyway.
His involvement with homeless ministry led Colin to develop a friendship with a man named Joseph, who stored his few possessions in a suitcase he carried with him wherever he went.
Colin's last interaction with Joseph occured at Christmas, shortly after Joseph's suitcase was stolen. When Joseph handed Colin a brown paper bag, he opened it to discover candy corn and sugar packets.
It wasn't the candy corn and sugar that Colin valued, but the fact that this man, whose only possessions had just been stolen, could be so generous and thoughtful.
Strive to give someone the gift of self this year. Give your time, your prayers, or something near and dear to your heart.
---
Snippet from the Show
He handed me a brown paper bag…It dawned on me that this was everything this man had in the world…And he said, "I got you a Christmas present."

---
Meet Your Host, Colin MacIver: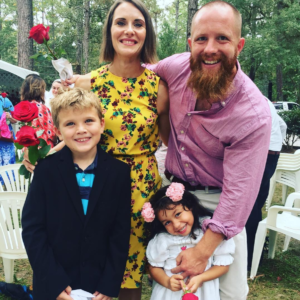 Colin is an enthusiastic transplant to vibrant Louisiana, where he lives with his beautiful wife Aimee and two energetic children, Leo and Zélie. His juggling act involves being a husband, a dad, a teacher, a youth minister, a musician and a national Ascension content creator and trainer.
In his spare time, he eats too many crawfish, savors king cake, plays one-on-one kickball with his son, and tries, for the life of him, to properly load the dishwasher.
Check out Colin's latest work with Ascension: Power and Grace: A Guide to the Catholic Sacraments and Quick Catholic Lessons with Fr. Mike.