Life gets tough. There is suffering, discomfort, and heartbreak. It seems like there is always something to complain about. So, is it ok to complain? Fr. Josh Johnson is joined by Sr. Josephine Garrett to discuss whether or not Christians can complain. Is there a holy way to complain?
Snippet from the Show
Jesus Christ has suffered it all. He knows our suffering intimately and wants to be in our suffering with us.
---
Shownotes
Glory Story (2:08)
Question (6:34)
Can I complain when I am suffering?
Saint Story: St. Magdalena Son So-Byok (26:47)
Saint Magdalena was born in Korean and was both a wife and mother. Magdalena and her husband had eleven children but only two survived. Despite this incredible suffering, Magdalena remained faithful to the Lord. Knowing that her imprisonment was imminent, she gave her baby daughter to relatives to be raised. Magdalena along with her older daughter was arrested and interrogated. Magdalena never lost faith and proclaimed it boldly. Both Magdalena and her older daughter were executed.
Meet Sister Josephine Garrett
Sister Josephine is a native Texan, born and raised in Houston. She moved to Dallas in 1999 to begin studies at the University of Dallas, where she completed a BA in Political Philosophy with a Business Concentration. Sr. Josephine subsequently entered the banking industry, serving for 10 years as a Vice President in the Home Loans division of Bank of America. Raised Baptist, Sr. Josephine entered the Catholic Church in 2005, and in November of 2011 she began her formation to be a religious Sister. In November of 2020 Sister Josephine professed her final vows as a Sister of the Holy Family of Nazareth.

Sr. Josephine is a licensed counselor, serving as the school counselor for the cathedral grade school in Tyler, TX, and also working in private practice. She has also served in vocations ministry and as a national speaker for youth and young adults, speaking to groups of up to 25,000. Sr. Josephine is the host of Hope Stories with Black Catholics, an OSV podcast.
---
Resources
---
Meet Fr. Josh Johnson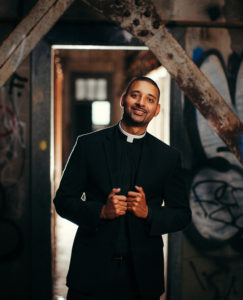 While Fr. Josh was raised Catholic, he didn't like the Church growing up. Then, one day in adoration, he fell in love with Jesus and received the call to become a priest.
Now, Fr. Josh is the Vocations Director of the Diocese of Baton Rouge in Louisiana. He is a presenter in four of Ascension's programs: Altaration, YOU: Life, Love, and the Theology of the Body, The 99, and Connected: Catholic Social Teaching for This Generation, as well as the author of Broken and Blessed: An Invitation to My Generation, Pocket Guide to Adoration, and co-author of Pocket Guide to Reconciliation.