Today we continue our book study on The Lion, the Witch, and the Wardrobe (chapters 5-8) by C.S. Lewis. We reflect deeper on the story and how it relates to our spiritual lives. Themes such as the battle of light and darkness, jealousy and making others feel small, the power of the name of Jesus, surrender vs control and how the story of Narnia is an echo of what our hearts long for in Christ.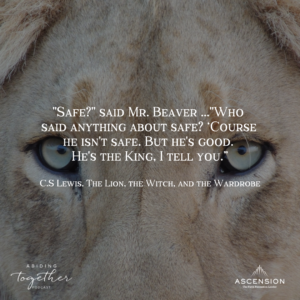 One Thing We Love This Week:

Sr. Miriam's One Thing – The women from the "Undone" retreat
Michelle's One Thing – The book "Just Mercy" by Bryan Stevenson
Heather's One Thing – Evangelization Ministry of Catholic Christian Outreach
Discussion Questions:
What is one truth about God that you can see in your story?
Where do you need to grow into your royal identity as a daughter/son of God?
Discuss the truth about how the name of Jesus contains His presence. How could this change how you pray?
"He isn't safe, but He's good." Discuss this quote and surrender vs. control.
Journal Questions:
Who can you go to who can speak wisdom into your life?
Like Edmund, are there any places of your life that you feel fear when you think about God?
What parts of your heart have been turned to stone and need the warmth of God's hand to bring them back to life?
Quote to Ponder:
"Safe?" said Mr Beaver …"Who said anything about safe? 'Course he isn't safe. But he's good. He's the King, I tell you." – C.S. Lewis – The Lion, The Witch, and the Wardrobe
Scripture for Lectio Divina – Revelation 21:4-7
He will wipe every tear from their eyes. There will be no more death' or mourning or crying or pain, for the old order of things has passed away. He who was seated on the throne said, "I am making everything new!" Then he said, "Write this down, for these words are trustworthy and true. He said to me: "It is done. I am the Alpha and the Omega, the Beginning and the End. To the thirsty I will give water without cost from the spring of the water of life. Those who are victorious will inherit all this, and I will be their God and they will be my children.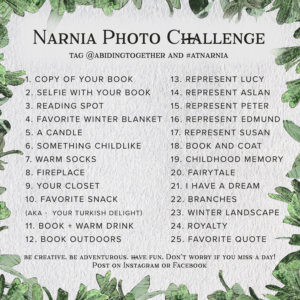 ---
Meet Your Hosts: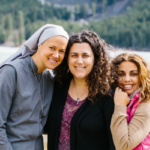 Abiding Together is a weekly podcast hosted by Michelle Benzinger, Sr. Miriam James Heidland, and Heather Khym. If you would like to contact the ladies of Abiding Together, email: abidingtogether@ascensionpress.com.