In this episode, Fr. Josh and guest Fr. Pine discuss signs from God, what to do with fear in discernment, and how to be patient with someone who is indecisive. Fr. Pine also shares about his new book: Prudence: Choose Confidently, Live Boldly.
Snippet from the Show
Sometimes the Lord prompts us to ask for a sign, and sometimes the Lord asks us to trust and to choose.
---
Shownotes
Glory Story (2:35)
Signs from God…or Not (5:15)
Hi Fr. Josh! I have a question about signs from God. In my Catholic circle of friends, there are a couple of people who talk a lot about waiting for a sign from God when they are trying to make big decisions. One of them also talked about something to do with a novena to St. Therese where if the answer is "Yes" somehow roses are going to show up on the last day of the novena. I totally believe that God can give us signs but I'm a little unsure how you can tell what's from God and what's not? Also, maybe you can explain the roses and St. Therese thing? Thanks!
-Michael 
Fear in Discernment (10:26)
Hello father! I'm an avid listener of your podcast ever since I stumbled across it 3 years ago. Your show has helped me find my way back to God slowly, but surely. Thank you for all your effort, it is a blessing for me as well as the many others listening. 
My question is this, how do I discern my vocation? Truth be told, it scares me. Ever since this fear came into my mind almost 2 years ago, I'm unable to pray about it peacefully. I feel I may be called to marriage but I'm afraid of 2 things, choosing the wrong spouse and commitment to said spouse for the rest of my life. Whereas religious life scares me because of the sacrifices I'll have to make and being away from my family. 
I've tried letting go and focusing on the present, trusting in God but I go into a spiral when these thoughts arise. I'm afraid I might just keep putting it off and never actually choose anything. I really would appreciate your help and your prayers. Thank you.
-Anonymous
Patience with Indecisiveness (19:40)
Hi there, Fr.! Thanks so much for all that you do. I have a question about decision making. My husband and I have been married for 3 years and something that I struggle with is patience when he is making decisions. He is really indecisive and overthinks things a lot. I want to be patient and supportive, but I'm not really sure what the best way to do this is. I don't want to constantly make the decisions for us. I want us to work together and talk through our decision making, but it can get really frustrating when he can't seem to get to a final decision. Thanks for any advice!
-Mary
Check out Fr. Gregory Pine's new book: Prudence: Choose Confidently, Live Boldly here.
---
Resources
---
Meet Fr. Josh Johnson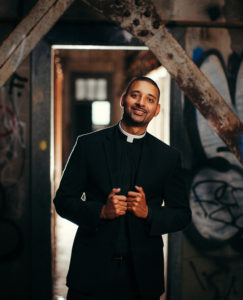 While Fr. Josh was raised Catholic, he didn't like the Church growing up. Then, one day in adoration, he fell in love with Jesus and received the call to become a priest.
Now, Fr. Josh is the Vocations Director of the Diocese of Baton Rouge in Louisiana. He is a presenter in four of Ascension's programs: Altaration, YOU: Life, Love, and the Theology of the Body, The 99, and Connected: Catholic Social Teaching for This Generation, as well as the author of Broken and Blessed: An Invitation to My Generation, Pocket Guide to Adoration, and co-author of Pocket Guide to Reconciliation.