Meg Hunter-Kilmer joins Fr. Josh to answer questions about the diverse lives of the saints from all over the world, saints who struggled with anxiety, and how the intercession of the saints works.
Meg Hunter-Kilmer is a cradle Catholic and a revert, brought back to the fold by a grace-filled confession and the supreme logic of Catholic doctrine. She has a Bachelor's in Theology from Notre Dame and a Master's in Systematic Theology, also from ND. After 5 years as a full time religion teacher, she quit her job and packed everything into the trunk of her car to drive around the country and fly around the world as a hobo missionary.

Snippet of the Show
The Catholic Church and her canon of saints is full of saints from all different cultures, ethnicities, disabilities, family circumstances, and struggles, because nobody is disqualified from becoming a saint.
Snippet from the Show


---
Shownotes
Questions

Diverse Saints
I have been listening to earlier episodes of the show. I love the show. I noticed you always encourage the presentation of diverse art (saints, Marian apparitions, etc). I noticed in the last couple years God has led me to desire devotion to and knowledge of Saint Kateri Tekawitha. I want to dive into more diverse saints: Do you have any recommendations for books by or biographies of diverse saints?
-Anonymous


Saints Who Struggled with Anxiety
Hey Fr. Josh! 
I love listening to your podcasts and I'm so happy I came across them. They are so inspiring and I am learning so much about the beautiful Catholic faith! I have been dealing with social anxiety since I was a teenager and find it quite hard to stay composed in public settings/ when I am outside. I've noticed that I'm very fearful of what the outside world thinks of me and as a result have become somewhat of a hermit and prefer to stay inside because of this fear of being judged. This fear may come when I'm walking outside and I just never know how to act when I see other people walking towards me etc. I would love to hear your advice on this. Is there a particular Saint's intercession that you would recommend? or praying a certain prayer/devotion that may help with this kind of social withdrawal/anxiety? Thank you so much and God bless!! Looking forward to hearing from you 🙂
-Lisa 


How the Intercession of the Saints Works
Father Josh, thank you for helping me with this! I am a very thankful convert to the Church. I attend mass every Saturday night, then go to a non denominational church with my family on Sundays (I am the only Catholic in our family).
Out of the many, many gifts I treasure in the Church, petitioning the saints to pray with me has been one of the most powerful. I've occasionally had protestant friends ask questions about that, and there's one aspect of their questions that I never feel I've answered well…specifically, how do we know we are petitioning the saint, with the scriptures forbidding interacting with spirits on the other side of eternity? In other words, isn't the risk too great to be interacting with those unseen?
My personal answer always seems inadequate…I talk about the scriptures that talk of the family of God (clearly including those on Earth and in the kingdom,) and verses in Revelation 4, 5, and 6. What am I missing that I could share with them? Thank you again!
-Shyla



Resources
---
Meet Fr. Josh Johnson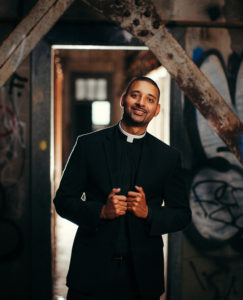 While Fr. Josh was raised Catholic, he didn't like the Church growing up. Then, one day in adoration, he fell in love with Jesus and received the call to become a priest.
Now, Fr. Josh is the Vocations Director of the Diocese of Baton Rouge in Louisiana. He is a presenter in four of Ascension's programs: Altaration, YOU: Life, Love, and the Theology of the Body, The 99, and Connected: Catholic Social Teaching for This Generation, as well as the author of Broken and Blessed: An Invitation to My Generation, Pocket Guide to Adoration, and co-author of Pocket Guide to Reconciliation.