Have you ever wondered what the difference is between Anointing of the Sick and Last Rites? Fr. Josh shares about each one and explains their differences. Fr. Josh also shares about an incredible young man who not only lived a life for God, but also gives us a great example of a holy death.
Snippet from the Show
When you receive the sacrament of Anointing of the Sick, you receive spiritual strength from God.
---
Shownotes
Glory Story (1:40)


This Episode's Question (7:31)
Are Last Rites and Anointing of the Sick the same? When my mom was terminal in the Fall of 2021, I asked a priest in the nearby parish she attended if he would do last rites. The parish secretary told me the priest wasn't comfortable going to hospitals or senior living communities due to COVID. I was disappointed. She told me that it was OK because my mom had Anointing of the Sick weeks prior to her terminal diagnosis, and essentially that it was the same thing. I prayed and called my parish. One of the priests said he would come for Last Rites the next day which he did. My mom had a holy death and affirmed that Jesus and the Blessed Mother were there at her deathbed.
However, I still wonder if that first priest/secretary was correct. Are Last Rites and Anointing of the Sick the same? I am hoping you can give me clarity on this situation.
-Aylin
Saint Story: Bl. Carlo Acutis (21:45)
Blessed Carlo Acutis is one of the more modern individuals to be on his way to canonization. He was born in 1991 in London. However, when he was just three months old, his family moved to Italy. From a young age, Carlo showed a great love for the faith. He was devoted to Mary and prayed the Rosary often. After receiving his First Communion, he went to daily Mass as often as he could.
Although he was devout and prayerful, Carlo also had normal teenager interests such as video games, sports, and spending time with friends. Although his family was fairly wealthy, Carlo remained kind, generous, and respectful.
One of the remarkable things Carlo did was create a website sharing about all of the Eucharistic miracles that had taken place and were acknowledged by the Vatican. He collected all the information he could and created a sort of "virtual museum" so that more people could learn about them.
At the age of 15, Carlo was diagnosed with an acute form of leukemia. It was so advanced and aggressive that it was only a week after his diagnosis that Carlo died. Prior to slipping into a coma due to a brain hemorrhage, Carlo received Last Rites. He was anointed and received Holy Communion. Carlo died on October 12, 2006. He was beatified on October 10, 2020.
---
Resources
---
Meet Fr. Josh Johnson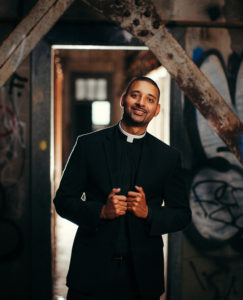 While Fr. Josh was raised Catholic, he didn't like the Church growing up. Then, one day in adoration, he fell in love with Jesus and received the call to become a priest.
Now, Fr. Josh is the Vocations Director of the Diocese of Baton Rouge in Louisiana. He is a presenter in four of Ascension's programs: Altaration, YOU: Life, Love, and the Theology of the Body, The 99, and Connected: Catholic Social Teaching for This Generation, as well as the author of Broken and Blessed: An Invitation to My Generation, Pocket Guide to Adoration, and co-author of Pocket Guide to Reconciliation.