Does the Song of Solomon say that being black is a sign of sinfulness? Song of Solomon 1:5 can be confusing to read, but Fr. Josh is here to explain this passage from Scripture. Fr. Josh also shares about a beatified priest from Brazil who is a great example of someone who prayed for his persecutors.
Snippet from the Show
Christ never gives up on us. So, we too can never give up on people.
---
Shownotes
Glory Story (1:35)


Listener Question (3:15)
Fr. Josh, can you please offer an insight into the Song of Solomon, 1:5. I heard a teaching recently that the bride was blackened because of her sin. And that had she only looked after her own vineyard she would not be dark. Essentially the teaching equates sin and exile as her mark of blackness. As a black woman, I cannot receive this. I won't. Please offer some insight here.
Saint Story: Blessed Francisco de Paula Victor (14:53)
Francisco de Paula Victor was born in Brazil to a former slave in 1827. From a young age, he was called and determined to be ordained a priest, despite the challenges he would face as a former slave. He persisted through hardship and doubt and was ordained in 1851. Although many people would not accept that a former slave could be ordained a priest and in some cases, even refused to receive the Eucharist from him, he remained faithful, humble, and patient. His virtue made him beloved among many by the end of his life. He later became the first Brazilian black national to be beatified in the Catholic Church.
---
Resources
---
Meet Fr. Josh Johnson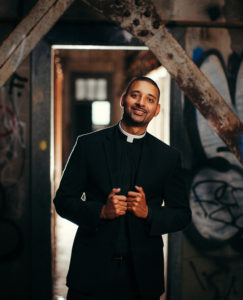 While Fr. Josh was raised Catholic, he didn't like the Church growing up. Then, one day in adoration, he fell in love with Jesus and received the call to become a priest.
Now, Fr. Josh is the Vocations Director of the Diocese of Baton Rouge in Louisiana. He is a presenter in four of Ascension's programs: Altaration, YOU: Life, Love, and the Theology of the Body, The 99, and Connected: Catholic Social Teaching for This Generation, as well as the author of Broken and Blessed: An Invitation to My Generation, Pocket Guide to Adoration, and co-author of Pocket Guide to Reconciliation.