Once, I heard a story of a woman who lives in the mountains of Colorado. Every day when she drives to work, she sees a beautiful mountain vista. Her backyard looks like a postcard.
When her friends and family visit her, they ask, "What is it like to be surrounded by so much beauty?"
She responds with a wry smile. "After a while, I don't even notice it. It just becomes the background."
Her scenic surroundings blend into the background of her life.
The message of Christianity often functions the same way in our modern society. The Gospel is so normalized and repeated that we often overlook how incredible it is.
People are losing faith because their faith just became the background of their lives, and they were never reminded to look up.
We pray the Creed, saying, "I believe in one God, the Father almighty…"
But sometimes it doesn't feel like what we're saying is truly cutting to our hearts. The recitation of the Creed can feel robotic.
Keep reading, and you will see how shocking our Faith was – scandalous even – as it was unfolding in the world. You will see your faith with new eyes, like seeing a spectacular landscape for the first time. Each time you pray the Creed, you will be reminded of what you believe.
---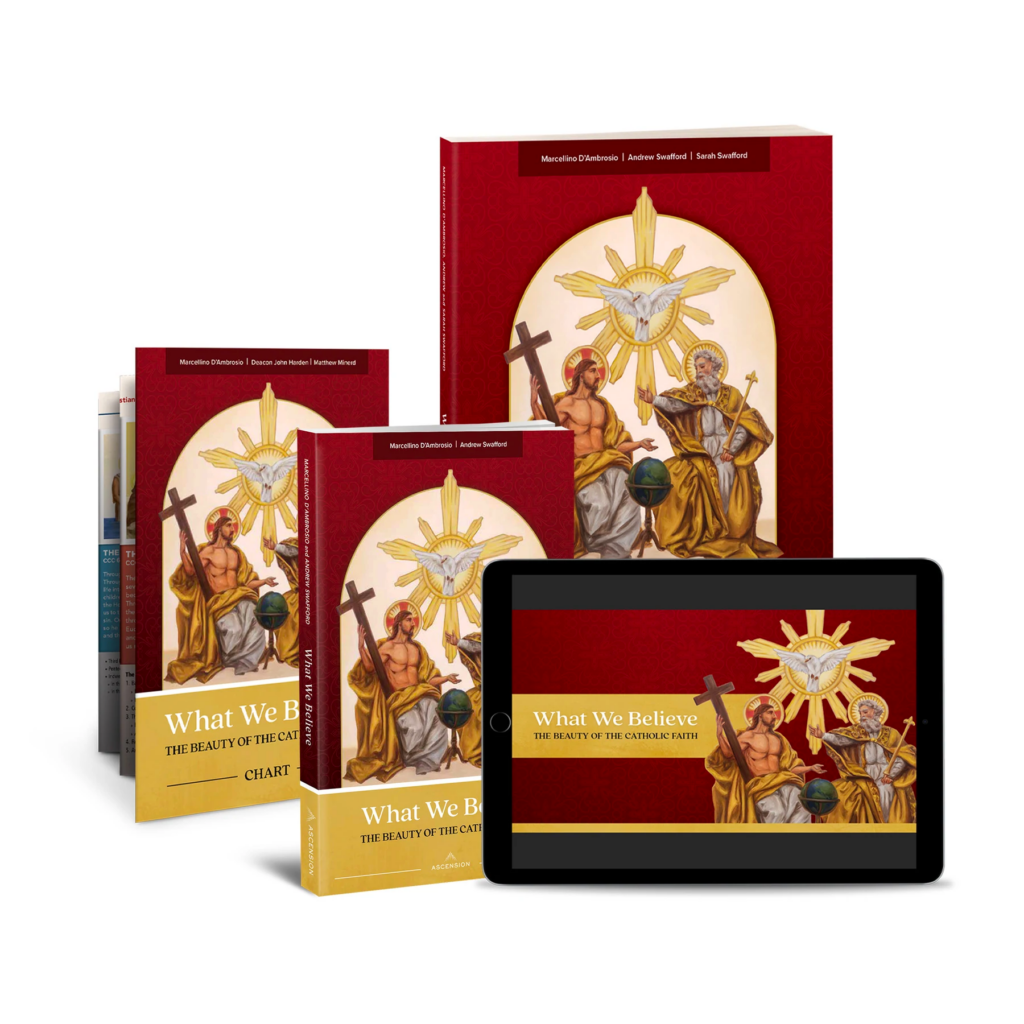 Discover the Amazing Riches of the Catholic Faith
What We Believe presents and explains the essential teachings of the Catholic Faith in a readable, approachable way.
---
Think of how unusual it was in the first century to believe in one God, much less the Resurrection.
The first statement of the Nicene Creed is "I believe in one God." When this creed was first professed, Christians lived in a polytheistic world. Jews were the outliers, a peculiar people with the seemingly strange notion that only one God existed.
Jews actually made the confession of God's oneness every day. Even in our own day, faithful Jewish men proclaim every morning and evening, "Hear, O Israel: the LORD our God is one LORD" (Deuteronomy 6:4).
All the commandments of God, including the Ten Commandments, flow from this reality that God is one. So the first commandment on Sinai was "You shall have no other gods before me" (Exodus 20:3). The greatest commandment in Deuteronomy adds a positive to this negative: since there is only one God, "you shall love the LORD your God with all your heart, and with all your soul, and with all your might" (Deuteronomy 6:5, emphasis added).
The oneness of God demands that we worship him alone. This brings focus and coherence to our lives. It unifies our lives around a center that is truly the center of all reality. And it provides a unifying foundation for all people throughout the world.
Idolatry is about worshiping something other than God. Idols are, in fact, often made according to the idol-maker's image and likeness. If you examine the Roman pantheon, for example, you can easily see this. Jupiter, Juno, Mars, Venus, and the other "gods" have all the foibles and passions that we have, only on a much larger, even titanic scale.
Even now, it can be difficult to not make idols for our hearts—out of work, others' opinions, fear, money, or relationships. In fact, the world encourages us to place all our value and time in external things. There are idols everywhere.
If we're not careful, these things become "gods" in our lives.
One idol usually doesn't satisfy for long, so another is made. Idolatry thus leads to polytheism, a confused pantheon of different gods who are often in conflict. In the story of the Trojan war told in the Iliad, for example, some gods are sponsoring one army and other gods, the other army.
This illustrates how polytheism leads not to unity but to dissolution and dissipation, both in the human heart and in human society.
As you can see, in Jesus' time, believing in one God and not having idols was a foreign and almost scandalous profession outside the Jewish faith.
This call to confess and worship the one God and that God alone is the first thing mentioned in the Creed, which we profess every Sunday at Mass.
Next time you pray the Creed, really think about the words you are saying. Think about this crazy reality of putting all your faith and your identity in our one God, renouncing the little idols in your life each time you pray it.
---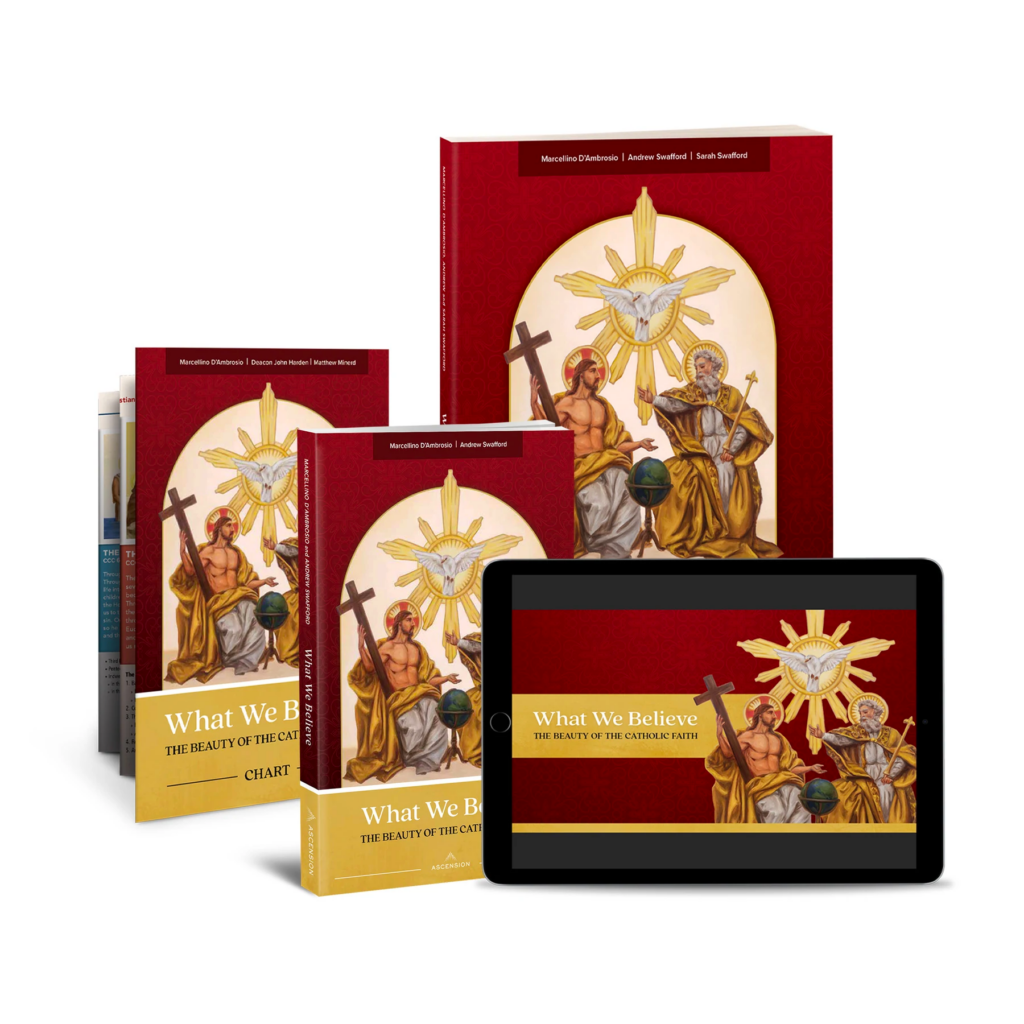 Discover the Amazing Riches of the Catholic Faith
What We Believe presents and explains the essential teachings of the Catholic Faith in a readable, approachable way.
---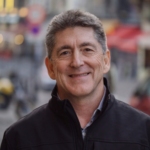 Dr. Marcellino D'Ambrosio ("Dr. Italy") received his Ph.D. in historical theology from The Catholic University of America under the direction of Avery Cardinal Dulles and has had a prolific career as a Catholic author, internationally-respected speaker, pilgrimage leader, and university professor. He is the Co-founder and Director of The Crossroads Initiative, the author of five books and hundreds of articles, and a regular guest on both secular and Catholic TV and radio programs. In 2004, Dr. D'Ambrosio co-authored the New York Times bestseller A Guide to the Passion: 100 Questions about The Passion of the Christ with Ascension Founder Matt Pinto. In 2019, Dr. D'Ambrosio published the groundbreaking Bible study on the life of Jesus Christ filmed in the Holy Land, Jesus: The Way, the Truth, and the Life, presenting alongside Jeff Cavins and Dr. Edward Sri. He is also the co-author and presenter of What We Believe: The Beauty of the Catholic Faith.
---
Has Ascension's free media strengthened your faith?
You can now offer ongoing support for this content with a recurring gift.
Support Ascension
Get your favorite Ascension content sent right to your email!