I entered and knelt down,
Saw one other there,
But he soon crossed himself and left.
Hearing no other sound,
I thought, "Is this fair?"
Of companions, your house: bereft.
If not for my presence,
Had I not been here,
How lonely, My Lord, would you be?
Not bread: Divine Essence,
Knowing lonely fear;
Remembering Gethsemane?
So I stayed an hour,
And with you in prayer
Of chalices which must be sipped.
I still recall the pow'r
The love and the care,
Your arms around me as you gripped.
See maybe it's not wrong
That no one else came
To spend time with you on that night.
You and I for that long,
All love and no shame;
One to one with my Light from Light.
---
You May Also Like:
---
---
---
---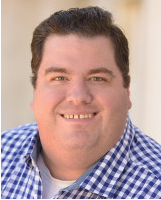 Matt Dunn joined Ascension in 2014. He studied political science, business technology, and business management at Delaware County Community College and Temple University. Writing is not his only creative outlet: when not in the office, he can be found on stage as a member of Stealth Tightrope, a local improvisational comedy troupe, or as a musician. A clarinetist with the Merion Concert Band, Matthew also enjoys playing professionally on occasion.
---
Featured photo by Francesco Alberti on Unsplash
---
This poem was first published on The Great Adventure Blog, the Ascension Blog's former home, January 30, 2015.
---