Bobby was never a fan of suits and buttoned-up collars, but over time he started to realize why we really dress up.
The outward appearance reveals the inner person. Over the centuries, cultural perceptions have changed and the "dressed-up" style has been modified to fit the age. But there has always been a deeper purpose to dressing up beyond just fluffing yourself up like a peacock.
Dressing up is not about you. It's a way to honor the person or people you are going to see. It's similar to how you may clean your house when you're going to have company. It's not that you're trying to hide that you're a slob (or at least that shouldn't be the reason). Offering them your best is a way to honor guests, and when we are guests we ought to offer our best as well. That's why we really dress up. Dressing up is an act of charity. 
Dressing up is also a sign that you can put yourself together. It shows you know how to pay attention to detail. This will make others respect you and the things you represent like your family and faith.
This is all important to keep in mind when going to Mass, because we are going to see God and are representing the Faith. We ought to dress up out of honor and respect for our fellow believers, and out of reverence for God. If you get more dressed up for a night out on the town than you do for Mass, it shows where your priorities are. 
While casual Fridays will always be a welcomed respite, dressing up can be a way to honor other people and a way to honor God.
---
Meet Jackie and Bobby Angel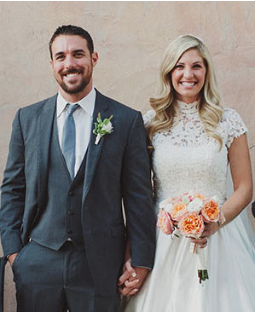 Jackie Francois Angel is a full-time worship leader and speaker. Bobby Angel is a campus minister and theology teacher at a Catholic high school. Married in 2013, they have four beautiful children and strive to grow in holiness each day!